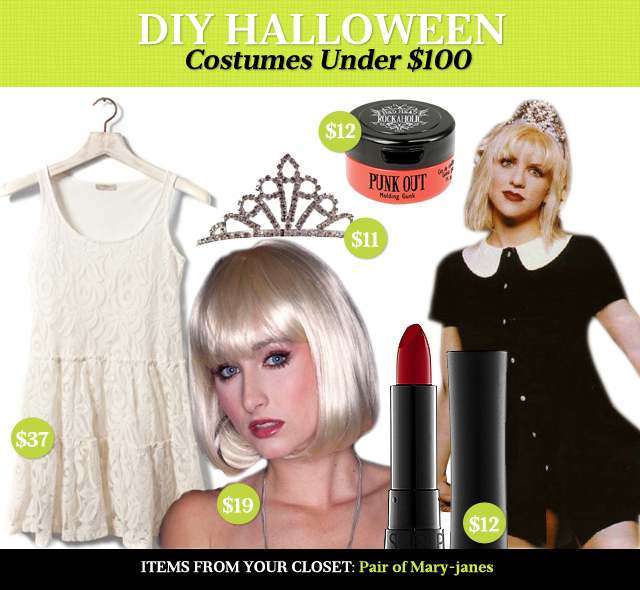 The early 90's ushered in the sounds of grunge music and thrust flannel as a fashion statement into the mainstream. Thankfully it also gave us Courtney Love.
Love, of  Hole fame, was one of the most memorable characters on and off the  stage during the decade.   Love was famously known for being Kurt  Cobain's wife but we've always been a fan of her trendsetting style as  well.  As the lead singer for Hole, she provided the alternative to the shredded t-shirts and flannel of her male counterparts.
The Spring/Summer 2013 runways promised to deliver plenty of looks inspired straight from the 90s and we can't wait to see what Phillip Lim has in store for us.  Until then, we can pay homage to one of our   favorite eras by dressing up as Courtney Love for Halloween.
All you'll need to put this look together is a babydoll white dress or slip (worn as a dress, of course), a blonde wig, tiara, mary-janes and tons of red lipstick applied liberally.  Be sure to use a molding gel or wax on your hair to create that "just rolled out of bed" look.
You can also opt to accessorize with a doll, i.e.  Frances Bean Cobain, which will be sure to be a hit amongst nostalgic music lovers.
[box title="Get This Costume" color="#050000″]
Pull & Bear Embroidered Dress With Frills -$37
California Blonde Bob Style Wig with Bangs  – $19
Crystal Bridal Tiara Crown – $11
Sephora Rouge Cream Lipstick in Bright Red – $12
Bed Head Rockaholic Punk Out Molding Gunk – $12
[/box]