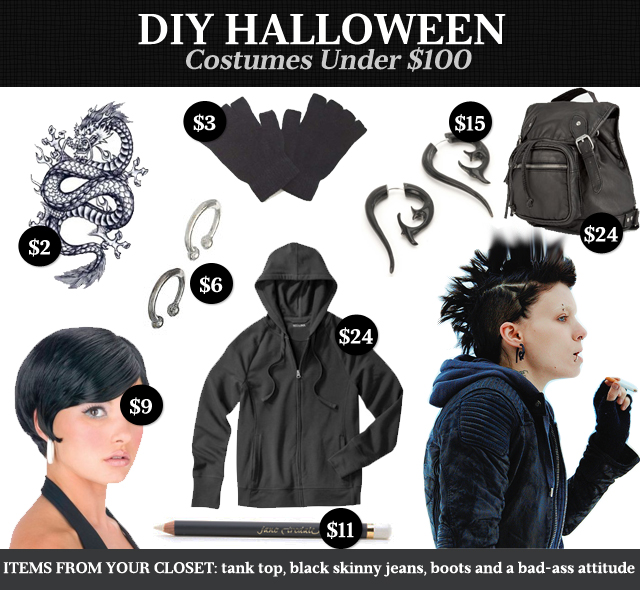 Rooney Mara as Lisbeth Salander rocked the hell out of our worlds when "Dragon Tattoo" hit theaters last year.
The severe hair, biker jacket, piercings, tats—everything about Lisbeth was unforgettable, as she motorcycled her way into our hearts. Trish Summerville, costume designer for the film,  made us a new crush.
We may not show you how to create a look that can inspire the likes of Riccardo Tisci of Givenchy, but we'll inspire you by putting together pieces for a darn cool costume that harnesses the gothic punk spirit of our favorite hacker.
You can look like a bad-ass outcast with a black distressed t-shirt, your skinniest of black denim, old pair of shoes (boots preferred), awkwardly placed clip on piercings, and of course a faux leather black motorcycle jacket to complete the look. Also if you want, you may just want to get your very own dragon tattoo—temporary, of course.
Don't forget a healthy dose of white pencil liner to white out your brows and lips for the perfect Lisbeth androgynous goth look.
Riccardo, come on, you even have to admit we're not bad.
[box title="Shop this Costume" color="#000000″]
Mythic Dragon Temporary Tattoo – $2
Black Unisex Warm Half Finger Stretchy Knit Gloves – $3
Illusion Hoops No Piercing Lip and Nose Jewelry – $6
Black 16g tribal organic boho spiral horn earring – $15
Faux Leather Backpack Handbag – $24
Jane Iredale White Eyebrow Pencil – $11
Pixie Space Girl Wig Black – $9
Merona® Women's Zip Up Hoodie – $24
[/box]