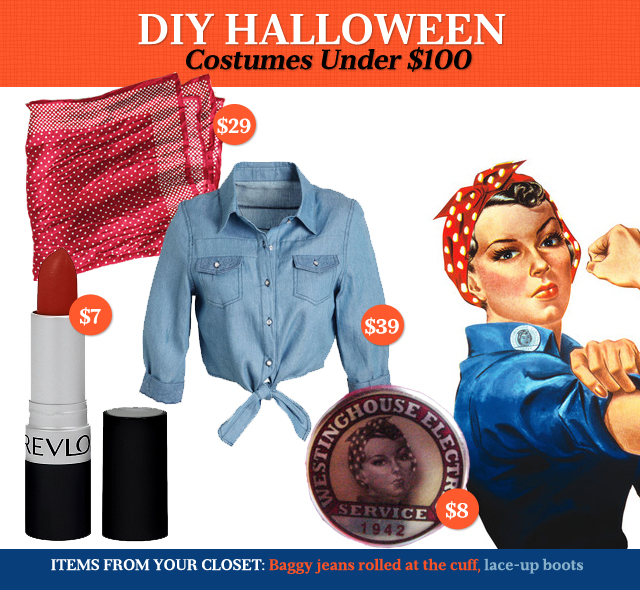 Halloween is rapidly approaching and we're excited to return to our popular seasonal series, DIY Halloween Costumes for Under $100.
If you're looking for an original Halloween costume idea on the fly and on the cheap, stay tuned. We've got plenty of creative ideas for you. Be sure to check our costume archives, too!
You can do it! Give your Halloween costume some patriotic girl power this election year by going as Rosie the Riveter. It's such a simple (and cheap!) look to put together — and the best part is, you get to rock a red lip!
All you need is a red and white polka dot bandana, a chambray button-down top, a pair of baggy  jeans rolled at the cuff paired with lace-up boots and a semi-matte red lipstick. Flex your muscles and you're good to go! Rosie herself would approve.
[box title="Get The Costume" color="#f34010″]
Lace Trim Chambray Tie Front Shirt
Rosie the Riveter's Employment Collar Pin
Revlon Matte Lipstick, Really Red
[/box]
---

Susan is a freelance writer, born and raised in NYC and currently based in Brooklyn. She's the senior beauty editor for Meets Obsession, and also writes for online publications such as Mamasarollingstone.com, TueNight.com.
and The Huffington Post. Susan had a serious candle hoarding issue that she has no plans to address. She's currently obsessed with Marc Jacobs' new beauty line, her black Zara moto jacket, and Aaron Paul.
All author posts