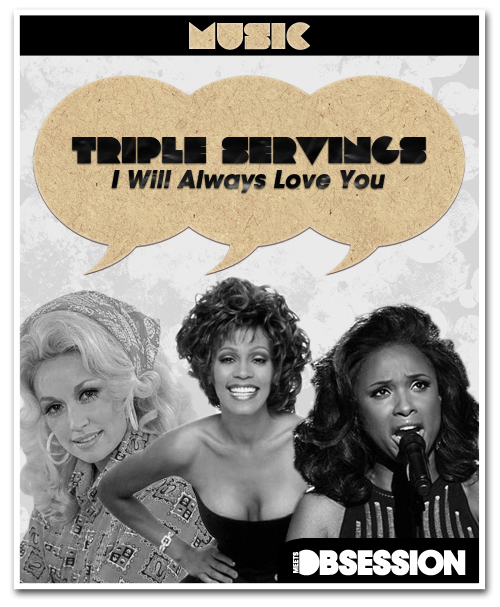 | | |
| --- | --- |
| | |
| Served by Dolly Parton | |
| | |
| | |
| Served by Whitney Houston | |
| | |
| | |
| Served by Jennifer Hudson | |
| | |
| | |
Many people will forever associate the song "I Will Always Love You" with the late, great Whitney Houston. And how can you not? Her voice reaches impossibly high vocal heights that most people can only dream of.
However, the song was actually penned and performed by another musical legend: Dolly Parton.
Originally released for her album "Jolene" in 1974, Parton received critical praise and enjoyed a spell at the top of the Billboard Hot Country Songs chart. Parton's original version is full of her signature quavering voice and country flavor.
But when Whitney Houston recorded the song for the soundtrack to her film debut, The Bodyguard, in 1992, the song took on a whole new life.
Houston's version focuses almost solely on the strength of her voice alone, opting for an acapella intro. In addition, the chorus did what Parton couldn't. Houston stretched it out, putting lengthy emphasis on each word. What's more is that each chorus was higher than the last. It was a love ballad in its truest form and will forever remain a testament to the power and brilliance of Whitney Houston.
After her surprising death this past Saturday, producers at the Grammys must have been scrambling to find a singer with a voice powerful enough to pay tribute to Houston. The answer was Academy Award and Grammy winner Jennifer Hudson.
Hudson sang "I Will Always Love You" at the Grammys this past Sunday, with sadness visibly etched on her face. However, she powered through a beautiful rendition of the song, sticking as closely as possible with Houston's original version.
---

Yohana Desta is currently obsessed with Butch Cassidy and the Sundance
Kid, everything Dave Grohl does, and listening to Arctic Monkeys on
repeat.
All author posts