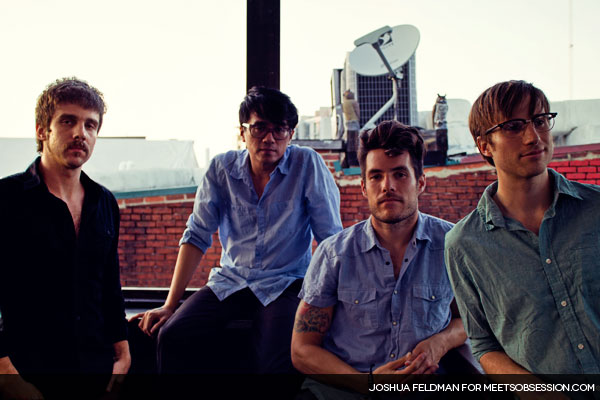 At the core of the universe exists a dire paradox—an impenetrable struggle between good and evil, and everything in between.
LA local band, Saint Motel is turning the paradox of life into imaginative magic by applying the concept of absurdity to a distinct art form that is all their own.
Composed of vocalist A/J Jackson, lead guitarist Aaron Sharp, bassist Dak Lerdamornpong, and drummer Greg Erwin, the men of Saint Motel are composing more than just music. They're creating a unique way of thinking through music with all the eccentricity, energy, and symbolic randomness of something visionary.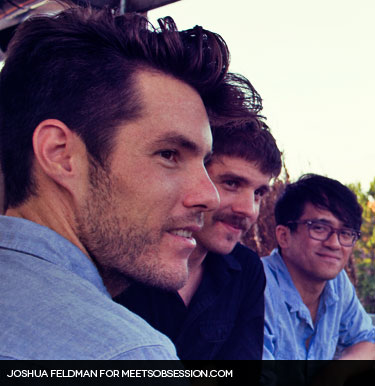 The quirky quartet first met when Jackson and Sharp were attending film school at Chapman University in Orange, California, and from then on they've made a conscious effort to ride the wave of absurdity while attempting to find balance in everything.
"If a sound is really upbeat, we usually have negative lyrics," explained Jackson to Meets Obsession Magazine before their recent show at DC9 in the Nation's capitol.
"We try to create a dichotomy between good and bad. Things that you wouldn't necessarily think would work together actually do."
Inspired by everything from the falling of leaves, to the ingenious personas of Beethoven and Buddha, to plastic surgery, Saint Motel is a musical montage of disparate and engaging styles. They make modern music for modern minds with a respectful adherence to the literary, cinematic, theatrical and musical explorers that have come before them.
From their debut EP "ForPlay" in 2009, Saint Motel has made a point of inserting subtle social commentary into their songs through a variety of random references to pop culture.
Reflecting on their song, "Dear Dictator," Jackson explains, "It can be about so many things…rebelling against the man…or just man in general. Or maybe a past English teacher."
"Or even Mussolini!," interjected drummer Greg Erwin.
Jackson went on to say that with their songs, it's best to "fill in the blanks and make it more personal to you." And that's what all great songs should instigate — a want to take what is given to you, and make it truly your own through interpretation and feeling.
With the release of their inaugural full-length album "Voyeur," the band is exercising this same psychedelic/indie/dream pop style in a more creatively self-sufficient way.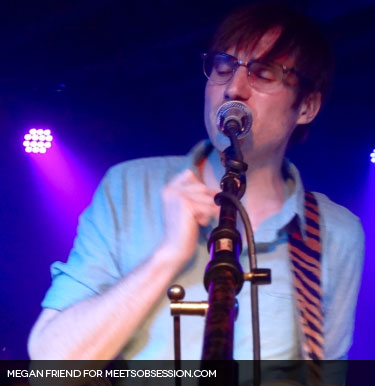 Saint Motel recorded half the album with the financing of a record label and half the album on their own dime, calling the process, "a truly liberating experience."
Some of the standout tracks of "Voyeur" include "At Least I Have Nothing," "Puzzle Pieces," and "Daydream/Wetdream/Nightmare."
"Daydream/Wetdream/Nightmare" captivates the whole surreal magnetism of dreaming, living, and yearning through melodic synthesizers and transitory chants.
Jackson reveals, "the song is kind of a dream…a differently structured song… a sort of rock opera, a journey from the daydream to the nightmare."
With this new album, the four men of Saint Motel are once again utilizing their cinematic minds to turn captivating images and ideas into sounds.
Saint Motel seeks to find connections in the unconnected, and meaning in things that seem at first glance to lack any sort of meaning at all.
They accomplish this with vision, timely wit, personality, and a distinct sense of humor, proving that there are no limits to what can be expressed or achieved by blending different forms of art.
So turn down the lights, turn up the volume…and enjoy the show that is Saint Motel.
To buy Saint Motel's new album "Voyeur"  and to check out upcoming tour dates visit here.
Stream Saint Motel's "Voyeur" below: