Courtesy Photo: Bret Leinen

"In many ways, the job of a musician is not too different than everyone else's job. It is a constant juggling act. You are balancing musicianship (or your technical facility), with what is relevant in today's world (socially, politically, economically, etc), and offering your comment(s) on such; all while retaining an entertaining shtick that leaves your audience wanting more so you can continue creating and sustaining your livelihood."

– Louie Diller of holychild [divider]
Some head west to lose themselves while others head west to find themselves. But whether you're running towards or away from something, or maybe a little of both, an artistic venture west can bring more than just a change of scenery.
Liz Nistico and Louie Diller, two young budding musicians, just journeyed to Los Angeles cross-country from Washington D.C. to introduce their musical project holychild to the blinding city of lights and opportunity.
Holychild began as a senior thesis assignment for Diller in 2011, and in the past year, has turned into a masterpiece of artistic outlay.
Diller has had quite the musical past, already having toured with the Bay area indie-rock pop sensation Dizzy Balloon. He has also played keyboard in an experimental project called Man in Space and drums in an alternative reggae funk group called Lucky Dub.
Finding influence in the diverse sounds of Radiohead, Led Zeppelin, Quincy Jones, Duke Ellington, St. Vincent and Michael Jackson, and having majored in International Affairs and Jazz Studies in school, Diller has adapted an international and historical perspective to his songwriting and his overall approach to life.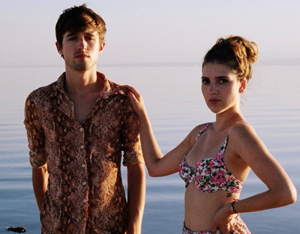 Similarly, Nistico has dappled in almost every form of artistic expression from a young age including dance, theatre, fashion, creative writing and turning everything she sees, experiences, and believes into art. She describes this as having an "urge to create, whether it be as a way to understand something I'm experiencing or as a mode to bridge myself with others."
Finding truth in all honest forms of art, Nistico is a true enthusiast of soaking in all that comes to her. Embracing the incongruities of experience, growing up, and feeling those emotions oftentimes difficult to express in one stationary fashion, Nistico believes that "art has the power to create change socially, politically, and hopefully individually." This divergence of perspectives and creative skills by the two has already proved to contain glimpses of something special in the release of their debut music video "Watching Waiting."
"Watching Waiting" exudes sultry sophistication with a tad of dark sanctification thrown in.
Based on the classic novel by F. Scott Fitzgerald, their Tender is The Night music video has "flares of insanity, or glimpses of one's emotional walls crumbling down," explains Diller. "In the end, [our] vision for the video was to offer a commentary on the domestic wife, or the docile and complacent woman figure, which persists to this day as an expectation of women in far too many niches of Western culture and thought."
Liz went on to explain, "Essentially it's about fearing love. About when things are going so well and are so nice that they're unbelievable, causing doubt that is fabricated. It's about the mind games that we play on ourselves when we don't understand the truth of a situation."
Through the song, Nistico's voice is fiery and expressive. Reminiscent of Metric's Emily Haines, Nistico's demeanor and sexualized yet vintage style in "Watching Waiting" emanates unrefined passion and tumultuousness. Consequently, Diller's drumming infuses a crazed musical heartbeat into the track that contributes to the video's air of mystery and beautiful tension.
With such a strong start, the rest of the holychild's unveiling album is sure to encompass the same amount of heart, soul, and catalogue of influence. Keep an eye out for this dynamic duo of drumming and dreamlike melodies in the months to come…
Holychild plans to release one song a month from their EP Tribes until it is released in its entirety in January 2013. For more information visit http://holychildmusic.com/.
[divider]
Courtesy Photos: Bret Leinen