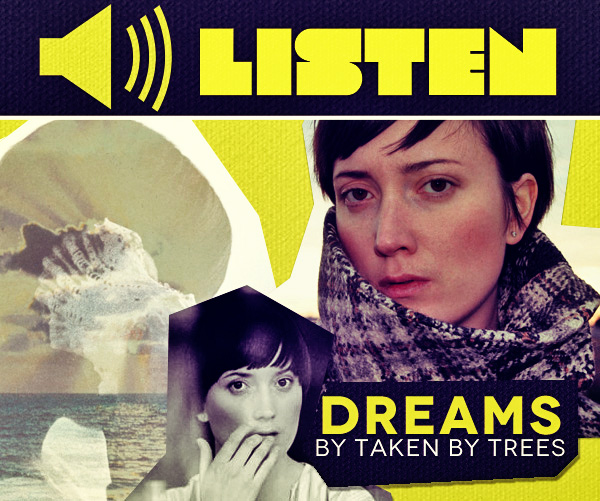 [dj_manager_mp id="LISTEN: Taken by Trees — "Dreams""]
Taken by Trees' New Song "Dreams"
Makes Dreaming in Reality… Seem Real
Dreams. What are they and why do they fade as quickly as they appear in the mind? Where do the images, colors and sounds of our dreams originate? And how do these subconscious visions percolate deep down into the cordial cores of our beings, in both sleep and waking life.
Dreams have been a consistent theme in art, music, film, philosophy and literature since the beginning of time.
The track "Dreams" off the ethereal solo project, Taken By Trees, by Swedish songstress Victoria Bergsman, dives into the mysterious depths of the subconscious, letting all the ephemeral mystery and real pertinence of dreams come alive in blissful electronic ecstasy.
"Dreams" is off her upcoming album "Other Worlds," set for release on October 2, 2012. As the former lead singer of the band The Concretes, Bergsman has made a name for herself by her soothing voice and philosophically attuned disposition within songs.
Bergsman described the dreamlike allure behind her new song by saying, "But the kind of dream I am referring to in this song is more like a sense of longing, a vision of a place where things are quiet, like floating in the ocean off of Hawaii. I find that very hard, feeling at peace, feeling that things are OK just as they are. In the past I always feared that calm would lead to laziness, but now I see it more as a strength, something I want to achieve. The album is very much about that … and about finding love. It's a feel good album."
Dreams can be frightening, inspiring, and can sometimes begin to influence your life on the same level and intensity that memories do. And this track does just that. It makes you feel like you're dreaming…in reality.