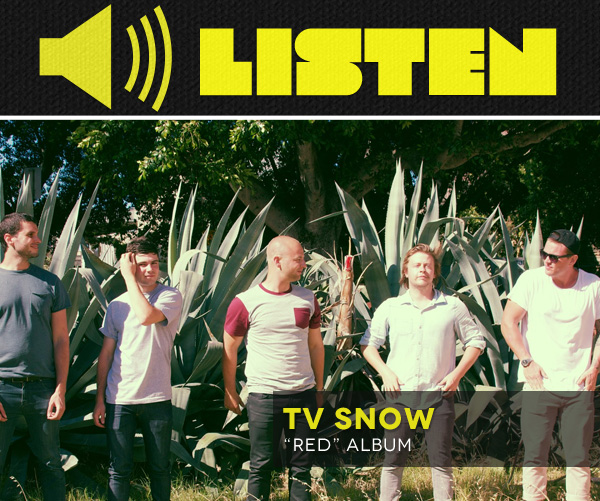 Hailing from down under in Perth, Western Australia, indie rock band TV Snow is turning heads with their catchy, coastal pop songs worthy of any summer anthem.
With five bandmates comprised of Sean Tyler (vocals), Anthony Di Giovanni (lead guitar), John Mariani (rhythm  guitar) Derek Wardrobe (bass) and Garo Tanzi (drums), the band was founded only a year ago .
And even though the band has only been together for one year, they've already had to endure a sudden tragedy when original bass player Ben Linden was fatally attacked by a shark while surfing this past summer.  While an unexpected tragedy like this would cripple most bands, the indie pop group decided to continue to make music.
Their latest "Red" album, which was recently released on December 1, pays tribute to Linden by featuring sounds he had recorded with the band prior to his death. "Red" is also the name by which Ben was known to his friends.
[label style="warning"]Standout Tracks[/label]
Downtown
Boy Wonder
Game Show
[label style="warning"]You would like this band if you like:[/label]
The Drums, Saint Motel, Waaves
---

Josh is a writer/photographer based in the nations Capital. He is an Arts Professional by day and also our Music & Entertainment Marketing and Promotions Editor. You may also see him with a camera in one hand, as a professional event photographer. In his spare time he enjoys collecting records, making semi-vegan food, and playing guitar in his band project, The Unnoticed Truth.
All author posts