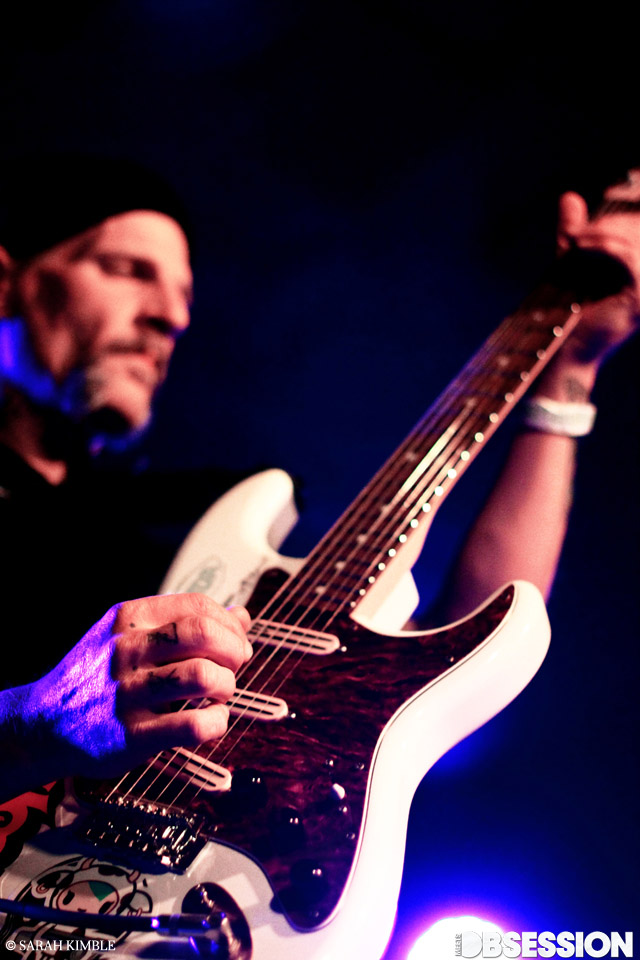 Meets Obsession magazine caught legendary drone masters Earth at the Rock and Roll Hotel in Washington, D.C. last week.
After the parking debacle (finding a place to park in DC is nearly impossible), we headed into the show.
Stebmo, the side-project of current Earth keyboardist/trombonist Steve Moore, was the opening act. Their lineup consisted of Steve on the keys and fellow Earth member Don McGreevy on electric bass.
Stebmo's tunes reflected Steve's extensive cult-jazz background: a loose, yet constructed take on the genre. The duo received a surprisingly warm reception, even as Steve promoted his odd new book on "geometry and harmonics."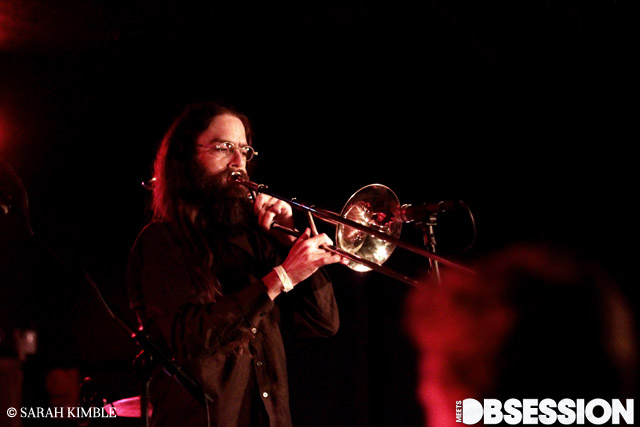 Stebmo was the calm before the Eagle Twin band storm. Playing through a wall of custom amps and big, Bonham-esque drums, the drone metal duo was by far the loudest band of the evening.
Initially, Eagle Twin was an excellent, cohesive foil to Stebmo's more free and relaxed style. Eventually, however, their set began to run on far too long, a problem exacerbated by their relatively dynamics-free sound.
One concertgoer even remarked afterwards, "If I had one hour left to live, I'd spend it watching Eagle Twin, because it would feel like forever." The majority of the D.C. audience seemed to approve of them, though.
Earth's stage setup was a stark contrast to Eagle Twin's: small combo guitar amps and a more spartan drum set. Dylan Carlson even played a Squier guitar — Fender's more affordable offshoot aimed at less experienced players. Indeed, Earth's minimalist approach extends down to their gear selection.
Earth played a transcendent set focused on their newer material. Brazenly opening with a brand new song, they exuded confidence in their sparse, melodic music throughout the night. Their sublime delivery of sound was punctuated by Dylan's warm stage banter between songs; he even dedicated "Old Black" to Sarah (Meets Obsession photographer) and me.
Recently overcoming a serious illness, Dylan seemed happy to be here.
They ended the show with reinterpretations of "Ouroboros is Broken" and "Tallahassee," played in the style of their recent albums.
The simple theme-and-variation approach Earth employs enabled them to retain the audience's attention through their long set.
Such an approach contrasted with that of Eagle Twin; they were great, but only in a small doses. Even though Earth played for about 80 minutes, it felt like the shortest set of the evening, a testament to their musical mastery.
Earth's Set
Badger | Old Black | The Bees Made Honey in the Lion's Skull | New Song/Descent to the Zenith/His Teeth Did Brightly Shine | Multiplicity of Doors | Ourobouros is Broken | Tallahasee

Photos by Sarah Kimble

Tags:
Eagle Twin
,
Earth
,
Music in Review
,
Rock and Roll Hotel
,
Stebmo
,
Washington DC