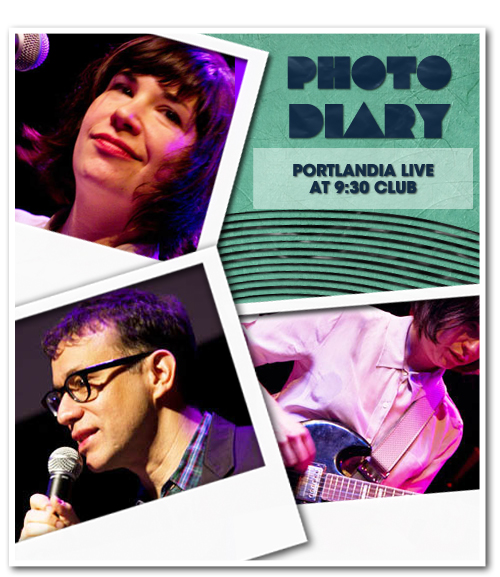 Earlier this week, Portland invaded DC's 9:30 Club in the way of "Portlandia – The Tour," a live show based on the popular IFC comedy series featuring Saturday Night Live cast member Fred Armisen along with Carrie Brownstein.
Originally, I was skeptical as to how a TV show would be translated live, but the second Portlandia's Mayor—Sex and the City's Kyle MacLachlan—came on a projector, I was hooked.  Maclachlan swore the audience into an oath of awesome, and we were off!
Fred Armisen of Saturday Night Live and former band member of post-hardcore group Trenchmouth, and Carrie Brownstein of psychedelic rock group Wild Flag, took the stage for a two-hour laugh riot.
The set was filled with new clips, sneak peeks and music—the pair even took a Q&A session, making the sold out space seem like a comfortable hang-session.
Throughout the show, guests such as musician Ian Svenonius made special appearances.
A bonus of  the show was when the cast introduced The Fiery Furnaces' Eleanor Friedberger to the audience followed by her rendition of the Patti Smith classic, "Because the Night."
Check out some of our favorite photos from the evening.
[nggallery id=168]
---

Josh is a writer/photographer based in the nations Capital. He is an Arts Professional by day and also our Music & Entertainment Marketing and Promotions Editor. You may also see him with a camera in one hand, as a professional event photographer. In his spare time he enjoys collecting records, making semi-vegan food, and playing guitar in his band project, The Unnoticed Truth.
All author posts