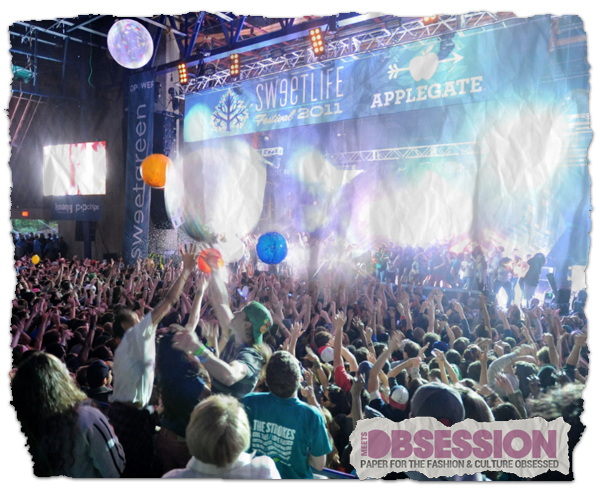 Courtesy Photo
[divider]
Possibly the greatest thing about spring (and summer) are the epic music festivals.
Even DC has it's very own.
On April 28,  The Sweetlife Festival will take over Columbia, Maryland's Merriweather Post Pavilion, and this year it's doubling in size.
In it's sixth year, the creators of Sweetlife decided to add a second stage to the event in order to showcase emerging acts. Many of bands performing on the Treehouse stage recently performed at Texas' famous SXSW, while others are "just gaining notice among industry insiders," according to the press release.
Some of the acts include electronic break out artist, Zola Jesus (who recently performed at U Street Music Hall), The Knocks, Ben Browning (of Cut Copy) and BLUEBRAIN.
The main stage will feature "blockbuster and Grammy-winning electronic, hip hop and indie acts" such as Explosions in the Sky, Fitz and the Tantrums, and A$AP Rocky.
"Adding the second stage so we can introduce people to our favorite emerging bands is really big," Sweetlife's PR person, Audrey Fix Schaefer, told Meets Obsession. "But having acts that sell out stadiums, like Avicii, The Shins and Kid Cudi on the Main Stage is pretty cool, too!"
But this year—not only are they doubling the amount of music—they're also upping the food ante with the expansion of a food festival that will include a sweetgreen & Serious Eats Food Forest.
The creators announced that 2012 will be a "food extravaganza featuring top regional and national food chefs and vendors."
The "Food Forest" might have something to do with the fact that the festival was created by DC's very own Sweetgreen restaurant.
Nicolas Jammet, Jonathan Neman and Nathaniel Ru—three Georgetown graduates—started the salad, wrap and frozen yogurt shop in 2007. That same year they put on the very first Sweetlife Festival.
"Sweetlife is a celebration of living your best life, and food is a big part of that," said Jammet.
"Being healthy shouldn't have to stop at a music festival. We want to reinvent the idea of festival food by bringing together our favorite chefs, farmers and food brands to build local and organic food concessions. We're excited to bring top national talent in food and music together."
José Andrés, Baked & Wired, Shake Shack, and Stonyfield farms are just a few of the farms/trucks/restaurants that will be represented on the 28th. Those purchasing VIP tickets ($125 as opposed to the regular $75), "will have access to a slew of distinctive offerings, including treats from Chef RJ Cooper, Rappahannock Oyster Bar and Dolcezza."
Of course, Sweetgreens will also be available.
"Creating the Food Forest for the first time is going to add a whole new layer of fun and buzz to the experience," says Fix Schaefer. "Getting celebrity chefs like Jose Andres and RJ Cooper to participate along with us will let people see that just because you're coming to a happening festival doesn't mean you can't eat healthy, fresh and delicious food."
In the past six years, eleven Sweetgreens have opened, including two in Philadelphia.
According to Fix Schaefer the artists performing are picked "based on the coolest acts in the genres of electronic, indie rock, and hip-hop," both nationally and internationally, as well as locally.
When asked to pick the thing the producers are most excited about, Fix Schafer can't decide, "It's tough to pick the MOST exciting, because we're all so jazzed up about the whole day."
For more information, or to purchase tickets, click here.