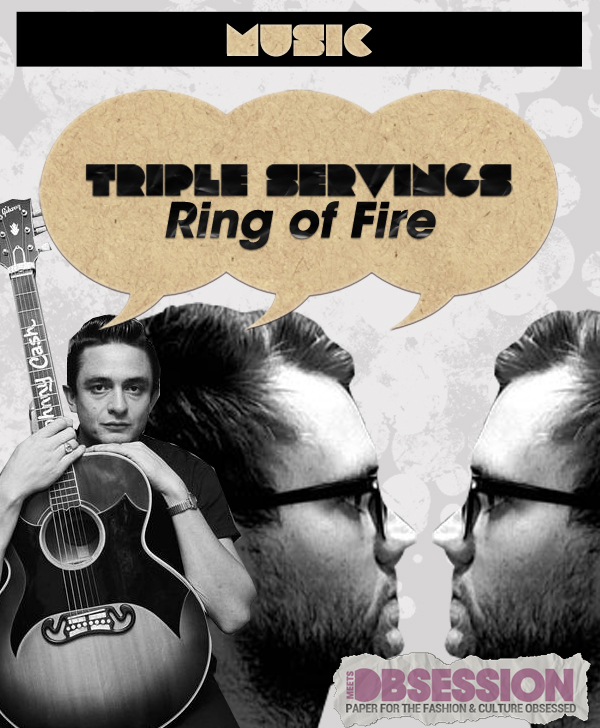 Few singers have left indelible marks on whole genres of music like Johnny Cash.
The Man in Black released his first album, "Johnny Cash with His Hot and Blue Guitar" in 1957 and went on to deliver almost 100 more albums, among them numerous collaborations, Gospel releases and movie soundtracks.
Cash imbued the spirit of early rock'n'roll, embedding his country sound with rockabilly and blues influences. And he stayed relevant up until the end of his life, seeing a great success with a Nine Inch Nails cover of his song "Hurt," which was released in 2002, just a year before he died.
However, one of Cash's most long-lasting hits is "Ring of Fire," a plucky, trumpet-filled medley about the burning power of love.
One of the most famous covers of the track was produced in 1968 by Eric Burdon and The Animals.  Although their much deeper blues and  trumped up psychedelic guitar version is one of our favorites, there are two recent notable covers of the Cash track that deserves some attention.
One of the most originals covers that I've heard is by Sacramento-based singer Teddy Briggs, aka Appetite, who has put his own spin on the track  in a wholly original and fresh way. Appetite's version features echoey, layered vocals, heavy percussion and dreamy melodies, breathing new life into the classic.
Another version that takes the track down a sweeter route is by chanteuse Stacie Buhler. Buhler's voice has a sweet folk-meets-Southern trill that captures the full romance of Cash's love song.
Both covers are available to download for free.
| | | |
| --- | --- | --- |
| 1st Serving: Johnny Cash[divider] | 2nd Serving: Appetite [divider] | 3rd Serving: Stacie Buhler [divider] |
| | | |
---

Yohana Desta is currently obsessed with Butch Cassidy and the Sundance
Kid, everything Dave Grohl does, and listening to Arctic Monkeys on
repeat.
All author posts