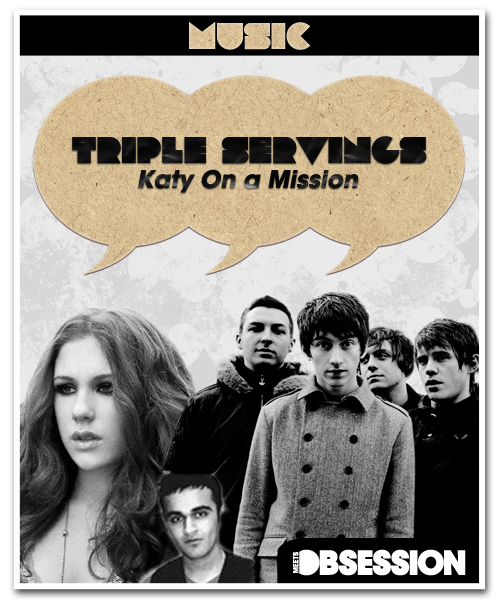 | | |
| --- | --- |
| | |
| Served by Katy B | |
| | |
| | |
| Served by Loadium Beats | |
| | |
| | |
| Served by Arctic Monkeys | |
| | |
| | |
Let me preface this edition of Triple Servings by saying that artists crossing genres is not a new thing. Sometimes it's horribly upsetting and ill-fitting (punk goes crunk, Kid Rock going country, and other things I wish had never happened).
But when a pop song, like Katy B's "Katy On a Mission," is turned into a beautiful acoustic melody by a band like Arctic Monkeys, it gives the song a whole new life.
Brit singer Katy B is a pop chanteuse whose club-ready pop jams and got her mainstream attention in 2010. Her track, "Katy on a Mission" is as club-friendly as they come, lightly tinged with dubstep.
But, since dubstep isn't really dubstep until it threatens to make your ears bleed, listen to one of the many dubstep covers of the track, easily found on YouTube. Snap on some headphones and let the atmospheric, dreamy, ambient beats take you over. The cover by Loadium Beats is particularly seizure-inducing, yet fun and listenable.
Now comes the twist. While on BBC Radio 1 earlier this week, Sheffield-based rock suit, Arctic Monkeys took on the track and gave it a decidedly more rock'n'roll take. The beginning has a whole nouveau-rockabilly effect going on, while lead singer Alex Turner croons and hits high notes that fans aren't accustomed to. It's one of those covers that no one could ever dream up, but works spectacularly.
---

Yohana Desta is currently obsessed with Butch Cassidy and the Sundance
Kid, everything Dave Grohl does, and listening to Arctic Monkeys on
repeat.
All author posts