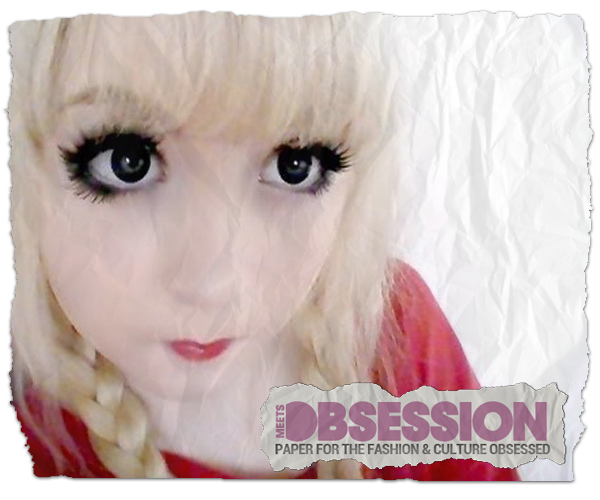 On the world-wide internets, you can find all sorts of things–Crazy Walmart shoppers,  2-year old babies smoking, and of course, the ubiquitous "shit people say" series.
But the newest You Tube sensation comes in the form of a human doll (we blame Gaga for this one).
Meet Talking Tina Venus Angelic, a fifteen year old girl from London, who enjoys transforming herself into a doll-like figure complete with porcelain skin, eye enhancing contacts and frilly dresses.
Venus has a You Tube channel which currently hosts over 80 bizarre (and possibly terrifying) videos that offer beauty tips and makeup advice.
Matching her creepy doll-like image is even a creepier doll-like voice.  Venus told reporters on RightThisMinute, a toned-down Tosh.O, that her strange voice and inflection is the result of speaking five languages.
Whether that is true or not, her accent seems to be some sort of Asian hybrid, which makes sense being that she lived in Japan for a few years and was inspired to turn into a doll by their anime scene.
With her videos receiving over 5,119,888 views, and a following of over 18,256 subscribers, we think Venus is on the road to Rebecca Black cult status.
---

Bridget is a writer, stylist, and vintage clothing dealer based in Kennett Square, Pennsylvania. Bridget enjoys spending time with her boyfriend and guinea pig, and in her spare time sells vintage at local flea markets . Bridget is currently obsessed with Zooey Deschanel's wardrobe on New Girl, Moroccan food, and microcars.
All author posts