Adolescence has been the subject of much artistic exploration – whether it be through poetry, novels, music, or fashion.  Perhaps it's the fascination with transition or how our innocence is lost during those tender years,  or maybe it's the fact that during adolescence we begin to bloom into our destiny, whatever the case may be, we find ourselves,  time after time again, reexaming those long-past days that have shaped us.
This Fall, New York's Metropolitan Museum of Art has chosen to celebrate one such artist's depiction of this fragile time. The works of modern artist Balthasar Klossowski de Rola, more commonly known as Balthus, will be exhibited in his retrospective titled, "Balthus: Cats and Girls – Paintings and Provocation."
The exhibit, on display until January 12, consists of thirty-five paintings dating from the 1930s to the 1950s. His works show a preoccupation with nymphets. Young girls posed in ways that display a budding sense of sexuality, often with legs spread or breasts exposed, prompting onlookers to explore an idea that is often shoved aside: there is a certain sensuality that is married to youth.
While the paintings, which The Met has carefully chosen, highlight this idea, one of his most erotic and socially unaccepted paintings is glaringly absent from the retrospective.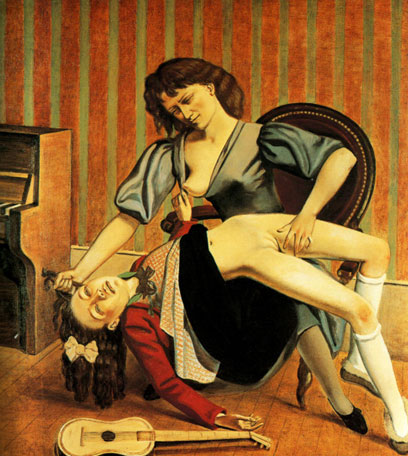 Titled "The Guitar Lesson," Balthus depicts a young girl splayed over the legs of an older woman participating in a blatantly sexual act.
Upon its original unveiling, the painting was viewed as so profane that it could only be displayed behind a curtain. "The Guitar Lesson" is only one example of Balthus's exploration of the tension between the profane and the pleasurable. Another painting, "Therese Dreaming" shows a girl in a skirt sitting with one knee up, displaying her white panties, while a cat sips milk at the foot of her chaise.
While he was not the first artist to obsess over youth, his casual depiction of these girls highlights his idealism and nostalgia for the lazy, subtle sensuality of adolescence.
"It is a stage marked by rebellion and also boredom," Sabine Rewald, Curator of the exhibit explains. "It is much easier to depict in poetry and prose. Balthus did it in paint."
This is perhaps why people have reacted so emotionally to his work.
There is a difference between reading about youth and sexuality than seeing the lines, the colors and the expressions on a canvas in front of you.
The reader is allowed to process the words themselves and translate them into something that is easier to accept.  With complex layers unveiling themselves through each glance,  Balthus's images cannot be diluted.

"Balthus: Cats and Girls—Paintings and Provocations" will be on exhibit September 25, 2013–January 12, 2014 at The Metropolitan Museum of Art. For more information, click here.

---

Saron is a writer and student born in Ethiopia and raised in Washington, DC. She is incapable of keeping a phone for longer than a few months, exclusively wears Miss. Dior Cherie, and her guilty pleasures include any novel written by V.C. Andrews (don't judge), Essie's "Little Brown Dress", and Stoli. She is currently obsessed with the poetry of Edmund Wilson and The Arctic Monkey's latest album "AM".
All author posts