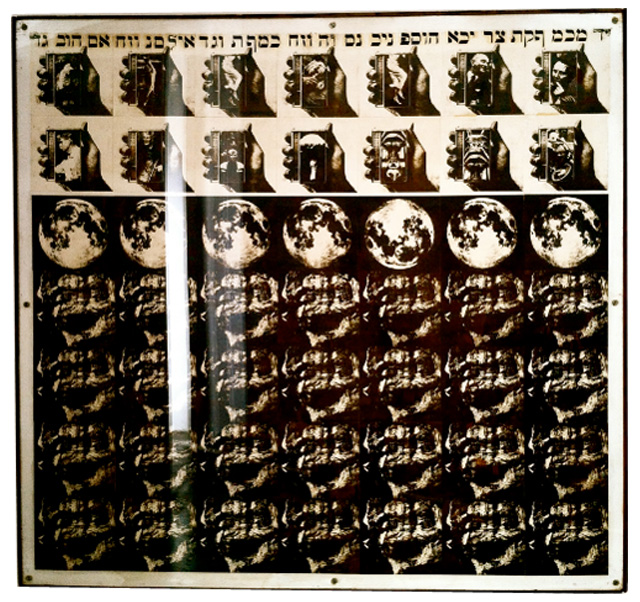 Wallace Berman, Untitled, c. 1968,Verifax collage [divider]
Art has the power to breach the bounds of reality and to present something about the human mind that seems to tear at the very rudimentary conceptions of consciousness. And such is the case with "Into the Mystic," an art exhibit currently housed at The Michael Kohn Gallery in West Los Angeles.
| | |
| --- | --- |
| | |
| Fred Tomaselli, Untitled (Entrance), c. 2012, Leaves, Acrylic And Resin On Wood Panel | |
"Into the Mystic," introspectively brings its visitors on a journey into the mystical land of the human subconscious – into all the colorfulness, into all the profanity, and into all the mystery.
The exhibit features innovative art experiments from a variety of visionaries, including Ed Ruscha, David Benjamin Sherry, Bill Viola, Jack Whitten, Wallace Berman, Martin Creed, Simmons & Burke, and Mark Tansey.
Upon entering the gallery, you're instantly greeted by Fred Tomaselli's vibrant flirtation of acrylic and resin on a wood panel. The piece resembles a psychedelic black hole that seems to twirl internally to eternity.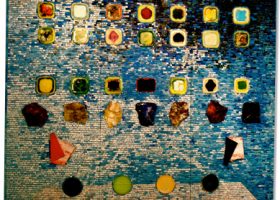 Jack Whitten, Apps For Obama, c. 2011, Acrylic On Hollow Core Door
David Benjamin's photographs of yellow and blue tinted sands and Simmons & Burke's dreamlike blue cloud landscapes are two examples of taking precise themes inherit in nature, and twisting them through the mind's kaleidoscope of multihued perception.
Martin Creed explores the human notion of time in his "3 classical mechanical metronomes" piece. A caption is written under the metronomes, which reads, "Three metronomes beating time, one quickly, one slowly, and one neither quickly nor slowly," alluding to the illusion of time and its passing.
Wallace Berman's 56 image negative verifax is, however, one of the more interesting pieces of the exhibit. Showing black and white negatives of different scenes — some religious, cultural and simply absurd — is both fascinating and weirdly frightening.
"Into the Mystic" is a dive into abstraction. But sometimes an artistic dive into abstraction can trigger vast amounts of truth and self-discovery.
[divider]
"Into the Mystic" will run from November 17, 2012 – January 26, 2013.
For more information visit http://www.kohngallery.com.
8071 Beverly Boulevard
Los Angeles, California 90048
Tel: 323 658 8088  
Tuesday to Friday 10 am – 6 pm
Saturday 11 am – 6 pm