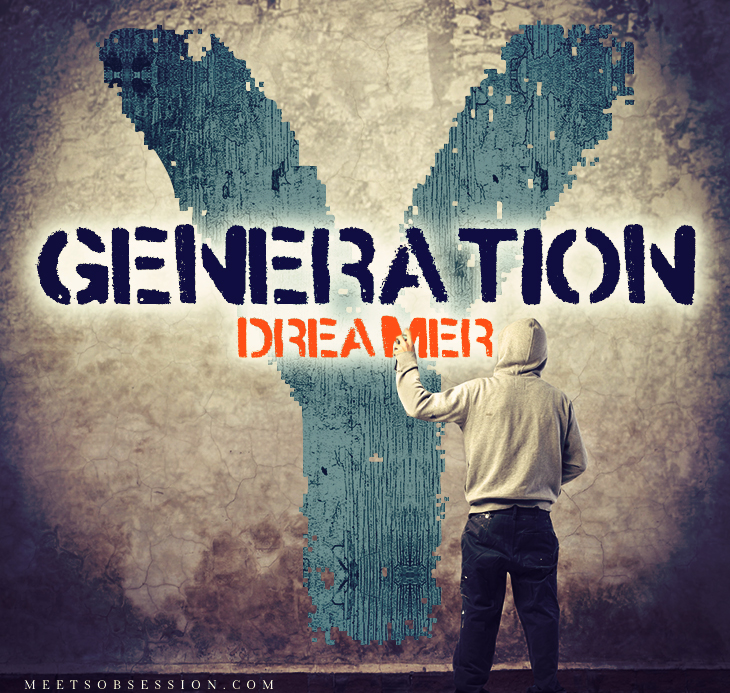 [dropcap]G[/dropcap]eneration Y is a generation of dreamers. And while we're not the first generation to dream, we are the first to grow up with the encouragement to follow those dreams.
In young adulthood we nurtured our creative passions, we made promises to ourselves that we'd never work a nine-to-five. Meanwhile, the economy slowly crashed down around us. And here we are now—at a time when even making ends meet is hard—with little or no direction of how to achieve these dreams of ours.
"We were always told we could be anything we wanted," stage actor and rapper, Daveed Diggs agrees. "Then the realization hits you, you have no idea how to fund this lifestyle."
Diggs recently relocated to Los Angeles from the Bay Area in the interest of making more money. "LA has a higher earning potential," the 30-year-old artist who's been rapping and writing songs for over half his life, told Meets Obsession. "As we get older, we start to think about maybe raising kids, or what happens if we need to go to a doctor. My last few years have been about maximizing the amount of money I make from art."
And while his career is currently paying his bills, it still isn't enough. "My income varies from month to month, and while it supports the bare minimum, it won't be ok if something goes wrong," explains Diggs. "I have zero cushion."
The path to becoming a successful artist is not paved, rarely does it offer health care or retirement options, and it's a lot of hard work for free.
"People always assume actors and musicians are trying to be rich, but that's not the case – everyone I know is just trying to eat. I wouldn't know how to go about being a millionaire."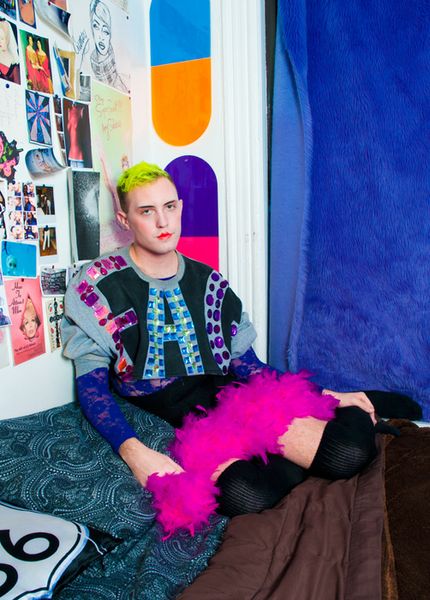 Similar to Diggs, photographer and Original Plumbing magazine creator/publisher, Amos Mac has no backup plan.
Occasionally he'll take on a side job, "I've done everything from being a TV extra to dog walking to working in a metal shop building furniture," Mac told Meets Obsession. "I'll do anything to not get a 9 to 5 —I wouldn't be able to balance my art with a day job."
Aspiring writer and journalist, Christina Cauterucci is going about things a little differently. After graduating from Georgetown University, she landed a communications job in higher education that allows her to write for a paycheck.
"Writing for my job includes public relations, features for the university's web presence, even some video work, but it's all from a communications standpoint. It's good practice, but it does stifle creativity," Cauterucci told Meets Obsession.
By night she's a part-time journalism graduate student, and she's also an (unpaid) editor of a DC-based queer blog—her outlet for the type of writing she hopes to do in the future.
"I've always been a very expressive person," Cauterucci explains. "That's where writing came in—my curiosity is great for journalism, I love meeting new people and getting to write a story for others to understand. I'm hoping grad school will not only give me access to writers I admire, but also help me make a living while fulfilling my creative side."
Cauterucci's parents both followed "traditional" career paths and they frequently encourage their daughter to choose a career with the potential to grow, not to mention deliver a steady paycheck. "They grew up with parents who lived through the depression- they encourage me to look into things like health care, but they're definitely supportive. Even though they're not always comfortable with the subject matter, they know I'm following my dreams," explains Cauterucci.
But this generation isn't one to seek out healthcare and vacation days. "I automatically rebel against jobs I feel forced into doing for money," says Diggs. "Our parents—my parents—were hippies. The values they instilled in me—do whatever you want/be what you want' –that was their rebellion. They have a different sort of model to get a 'normal' job; it doesn't seem like such a compromise to them as it does to us."
University of Maryland architecture graduate student Rachel Mihaly is following the same course as Cauterucci. Mihaly always knew she wanted a major that dealt with design, and, in fact, it was her parents whom suggested she pursue architecture.
"I entered architecture studios and fell in love with how complex of a design problem architecture is. To become an architect, you need to be a renaissance man," Mihaly explained to Meets Obsession. "At the end of the day there are so many factors that go into a building. Trying to make them all work with your design concept is always a rewarding struggle."
Unlike many arts programs, a Masters in Architecture is a professional degree, so Mihaly does expect it to be her main source of income after graduation. "There's no backup plan- it's all architecture all the time. Prior to grad school I was able to find an internship—a few years ago it was much harder. Now, almost all my friends that really put in the effort are finding jobs," says Mihaly. "It may not be at the firm they really want to work for, but currently, any work is good work."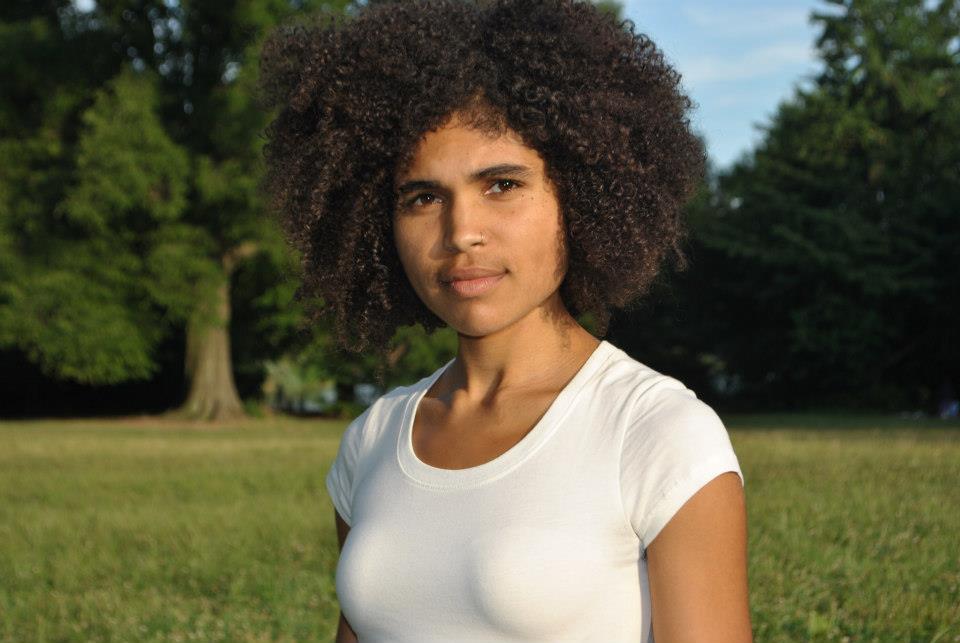 Likewise, poet and performing artist, Kirya Traber has been able to make a living on and off through her art. Though Traber is currently enrolled in New York's New School's MFA Acting program, she's been performing and working in arts education for the better part of a decade. "The pay can be sporadic, and to stay consistent I have to constantly sell myself, but I believe I can make it work," Traber told Meets Obsession. "It's my number one goal."
Growing up, Traber used her poetry as a means of survival. Over time, she went from performing at open mics to featuring at them. But she never fully committed to it until she was offered a leading role in a Pulitzer nominated play several years ago. Traber realized her art wasn't just going to keep her alive, she could make a living from it.
"I also started to see my art as not just a means of personal healing, but as something that could be part of larger dialogues. I am a strong, outspoken, queer woman of color, who was getting opportunities to perform before Bill Clinton and of thousands of people. It became the only thing I ever wanted to do."
As an artist who grew up poor, Traber says her expectations for wealth are pretty modest. "I want to have secure housing and health care. I want to have a family some day. I would like to have a few pairs of pretty shoes and fancy dresses and take an occasional frivolous vacation. But other than that, I don't need much."
Mac—who currently lives and works in Brooklyn—agrees that the artist paycheck is irregular, but he also agrees it's worth it. "Even when my photography doesn't pay the bills one month, all the work I do eventually leads up to something that pays the bills for a month — or many months."
For the time being, Mac is at peace with his current income level. "I like to say that I feel culturally rich and that's all I need in the world," he explains. "I'm not sure if that feeling will eventually peter out as I get older. I've been living as a working artist for about four years. It feels like a free-fall." But he's also the first to admit that he's not stopping any time soon.
"What have today's twentysomethings done to reinvent the kind of life we dream of?" Nathan Heller wrote in the New Yorker this past January. "Certainly, they've contributed a lot to the structure of online culture; two-thirds of young adults surveyed in a 2011 study said they'd prefer an Internet connection to a car, suggesting a new social order. But […] Offline, the generation's dreams seem not to be wholly their own." Though older generations are quick to accuse Gen Y'ers of not making a name for themselves, maybe we're trying to do something different. Maybe today's generation of young adults is trying to do it right.
"Our generation was given a premium on finding a self expression," says Cauterucci. "And, the way I see it, the economic recession is encouraging people to make their own jobs, instead of being beholden to a company."
Maybe that's the difference between Generation Y and those who came before us. Art is a passion that cannot be replaced with a steady paycheck. "We don't have trust funds," sums up Mac. "And sometimes we are struggling but we're usually happy."