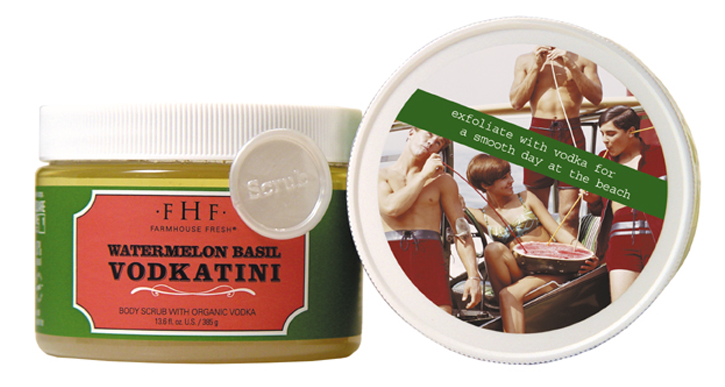 While my drinking days are over—after a long-time-coming, life-changing and life-saving decision I made over a year ago (I'll have 17 months on May 3rd!)—that doesn't mean I have to shy away from cocktail-inspired beauty products. As long as I'm not chugging perfume, I figure I'm pretty safe when it comes to my beloved lotions and potions.
So I'm getting my skin ready for summer with this Watermelon-Basil Vodkatini Body Scrub from FarmHouse Fresh, a brand I recently discovered and absolutely love.
Quick Sobriety Disclaimer: This scrub does contain actual organic vodka, so if you're sober and choose to abstain from using anything that contains alcohol, this product is not for you. We all make our own choices in sobriety (though not drinking, of course, is required) and while I respect strict purists, I tend to be a little more lax (I use Listerine, for example). And since I'm pretty sure I'm not going to eat this scrub, I'm comfortable recommending it. But as a sober woman working hard to stay that way, I'd be remiss if I didn't mention this product's (minor) alcohol content.
Anyway, back to the scrub. It's perfect for this time of year—the juicy basil and watermelon scent makes me happily anticipate the upcoming summer season while I slough away dead skin cells. It's a wonderfully revitalizing scent, plus the scrub is paraben and sulfate-free, so while it works well, it's also gentle on my skin, leaving it incredibly smooth, soft, and smelling sweet.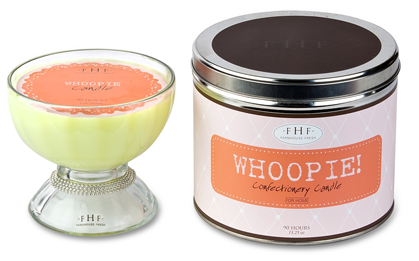 The packaging is also adorable, as the case with this Whoopie! Cream Confectionery Glass Candle (seems I can never make a beauty product purchase without buying a candle). It's dessert—rather than alcohol—themed, and this one does look tempting to devour and smells amazingly edible.
I'm looking forward to checking out more of FarmHouse Fresh's deliciously themed beauty goods (next up, this Sundae Best Chocolate Softening Mask). But I'll wait until I finish up my fruity scrub and cake-scented candle. Otherwise, I might really have a dangerous overdose.
Tags:
Body Scrubs
,
FarmHouse Fresh