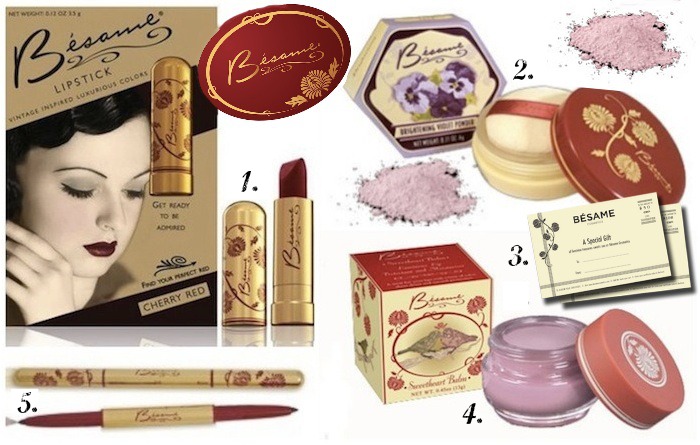 It feels like we've been waiting an eternity for Baz Luhrmann's sleek and stylized adaptation of the classic jazz-age tale to hit the screen. And we have!
When the film was pushed from a December 2012 to a May 2013 release date, we were given five more months to obsess over art-deco elegance and 1920s flair. I think it's safe to say that the Internet is now saturated with Gatsby-style posts, and that we're all really ready to finally see this film.
However, in celebration of this long-awaited release, we're offering up one more art-deco/Gatsby-glam/flapper-era roundup. This one features beautiful beauty products that are all from the same glamorous, one-of-a-kind brand—Bésame Cosmetics. The vintage-style packaging is beyond beautiful and almost as amazing as the makeup itself. Which is why each of the five following pieces are perfect for getting your Gatsby on.
This matte, dark cherry red acts almost like a stain—it truly won't budge while you sip on your champers. And the old-Hollywood styled, gold plated case is, simply put, gorgeous.
Give your complexion a brightening boost with this translucent powder. It's extremely subtle (there's no shimmer—it's the violet hue that adds oomph to your skin) and is perfect for setting foundation. And how gorgeous is the compact? I can definitely see it sitting proudly atop Daisy Buchanan's vanity.
If you have a beauty-obsessed friend who's been fired up about this film since it was announced, surprise her with a gift certificate along with her movie ticket on May 10th. She'll love you for it.
This lightly tinted lip balm is filled with nourishing ingredients such as aloe leaf extract and Shea butter, as well as antioxidant-rich vitamins C and E. And the beautiful jar is the perfect size to pack inside any jazz-age-esque clutch.
A versatile, two-sided pencil is a must-have makeup tool for any 1920s starlet. It works as both a lip and eyeliner, and comes packaged in a shiny, slim gold case that's decorated with the signature Bésame Chrysanthemum logo. Currently, Bésame is working on a brand new generation of Masterliners, so they're offering a 2-for-1 deal on these pencils while supplies last. So order now and stock up, you sexy starlet.
---

Susan is a freelance writer, born and raised in NYC and currently based in Brooklyn. She's the senior beauty editor for Meets Obsession, and also writes for online publications such as Mamasarollingstone.com, TueNight.com.
and The Huffington Post. Susan had a serious candle hoarding issue that she has no plans to address. She's currently obsessed with Marc Jacobs' new beauty line, her black Zara moto jacket, and Aaron Paul.
All author posts