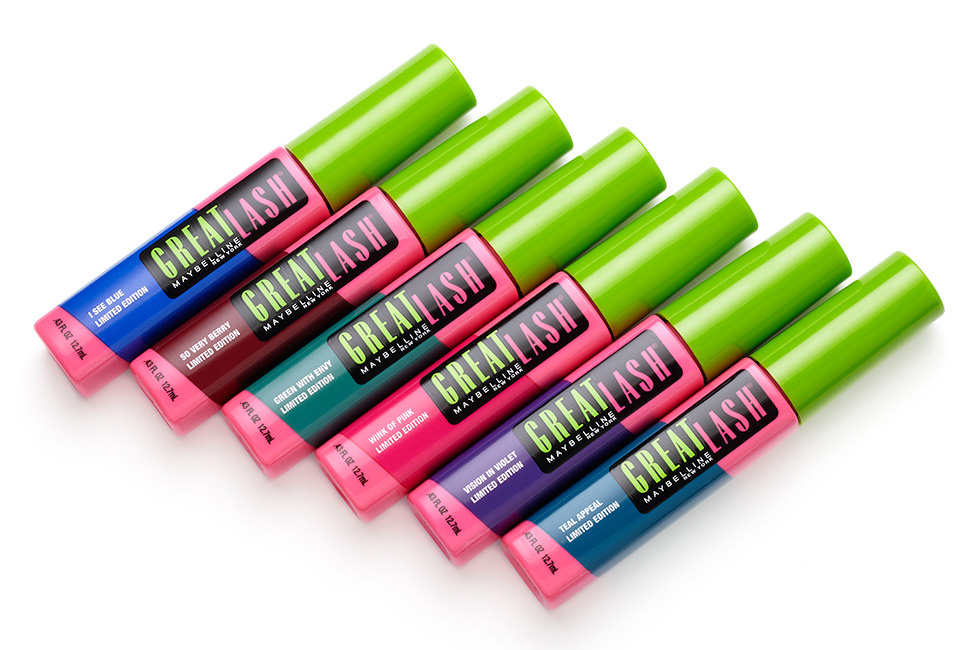 Isn't Maybelline Great Lash Mascara  just the greatest?
I have been a fan for years and have used the mascara religiously.  When I was younger, my mom did my ballerina makeup and used the lash-defining mascara to bring out my eyes on stage.  The packaging–which hasn't changed one bit since its invention–was pretty cool, too, as I would become transfixed on the bright pink and lime green tube.
According to Maybelline New York, a tube of Great Lash is sold every 1.7 seconds in the United States. But those numbers may go up this month with the recent release of their limited-edition collection.
For those that are looking to give their precious lashes a color treatment other than the predictable brown and black lash variations,  you try can spicing things up  with one of their six colorways, which is available for a limited time during the month of August.
Their limited-edition collection includes colors such as, So Very Berry, I See Blue, Wink of Pink, Teal Appeal, Vision in Violet, and Green with Envy.
There is a shade for every eye color, but I plan to lash out with Vision is Violet for green eyes, I See Blue for brown eyes, and Wink of Pink for blue eyes.
The mascaras, which are currently retailing for $6 a tube, can be purchased at select drugstores.
Which color will you lash out with?
---

Bridget is a writer, stylist, and vintage clothing dealer based in Kennett Square, Pennsylvania. Bridget enjoys spending time with her boyfriend and guinea pig, and in her spare time sells vintage at local flea markets . Bridget is currently obsessed with Zooey Deschanel's wardrobe on New Girl, Moroccan food, and microcars.
All author posts