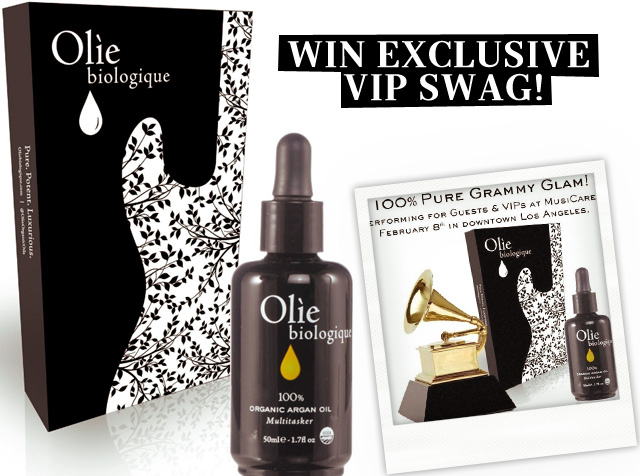 We're all getting geared up for the Grammys Awards this Sunday, but did you know that there's another star-studded, music-minded (and very exclusive) fete taking place tomorrow?
MusiCares—a non-profit health care organization set up by the Recording Academy—is throwing its annual "Person of the Year" gala on February 8th, and this year's honoree is none other than the brilliant Bruce Springsteen. (Thunder Road! Hungry Heart! "Oh, oh, oh, I'm on fire!")
Scores of celebs will be on hand to celebrate both The Boss's amazing music career, as well as his impressive philothropantic work. Jon Stewart will host the pre-Grammy gala, which will feature fancy cocktails, a delicious dinner, an awesome silent auction and of course, an all-star concert. Oh, the glamorous life. I admit I'd give an arm and leg (and a year's worth of La Mer Moisturizing Cream) to be there.
There is, however, a tiny way to take part in this sold-out celebration. And the best part is, it's beauty related! We're giving one lucky MO reader the chance to win one of the exclusive goodies that VIP guests such as Elton John, Sting, Patti Smith, Neil Young and Mary J. Blige will be taking home in their swag bags.
Olie Biologique—a luxury skin care line that I'm quickly becoming obsessed with—was specially selected by MusiCares to provide each gala attendee with a bottle of the brand's 100% USDA Certified Organic Argan Oil. In addition, the all-organic line created a beautiful, custom-made gift box just for this occasion (check out the guitar!). The box won't available for purchase, so you'll truly be getting a one-of-kind gift that only a few (famous) others will possess.
Packed with skin-soothing antioxidants, super softening fatty acids, renewing vitamin E, and tons of other beneficial ingredients, Argan oil is a truly amazing, plucked-from-nature product that I recommend everyone try. Yes, it's everywhere these days, but I love Olie's version because of how lightweight and un-oily it feels. It absorbs faster than most others I've tried. And it's multipurpose: You can use it on your face, hair, and body. I personally love dabbing a drop on my cuticles before prepping my nails for a mani.
So what are you waiting for?
ENTER HERE for a chance to perfect your Grammy glow with a bottle of this skin-tastic "liquid gold", nestled in a one-of-a-kind box in honor of The Boss. The winner will be announced on February 25th.
[button link="https://reddotcreative.wufoo.com/forms/enter-to-win/" color="#000000″ size="3″ style="2″ dark="0″ radius="10″ target="self"]Enter Here[/button]
And if you don't win, don't fret! In celebration of Grammy week, Olie Biologique is offering free shipping through February 22nd. So you can still score a deal on an Argan oil bottle (or on their Huile Claire Calming Oil—this stuff works wonders on red spots, especially in winter). Your skin will thank you for trying it out!
Congrats, Bruce! You look amazing for 63—perhaps you've already discovered the wonders of Olie Biologique's Argan Oil?
---

Susan is a freelance writer, born and raised in NYC and currently based in Brooklyn. She's the senior beauty editor for Meets Obsession, and also writes for online publications such as Mamasarollingstone.com, TueNight.com.
and The Huffington Post. Susan had a serious candle hoarding issue that she has no plans to address. She's currently obsessed with Marc Jacobs' new beauty line, her black Zara moto jacket, and Aaron Paul.
All author posts