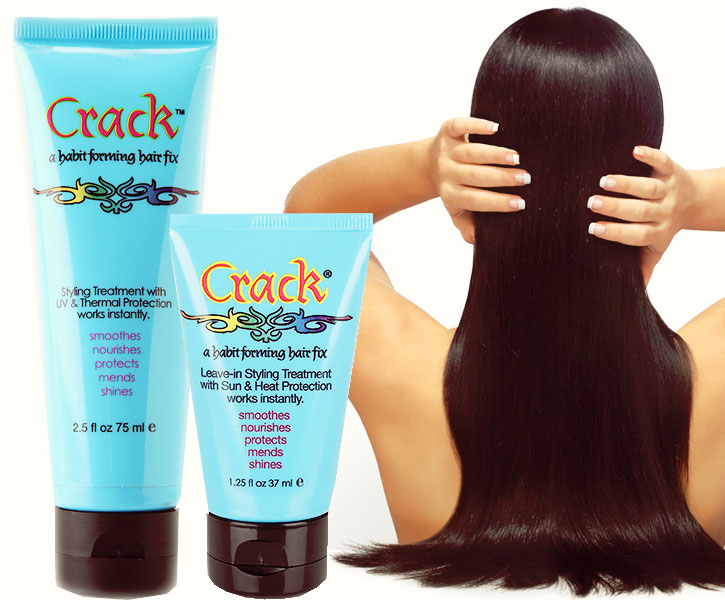 Crack is wack. We know this.
But what if, instead of a being one of the most addictive, life-sucking street drugs in the world, it was a wonderfully reparative, mane-saving hair product? Still addictive, but rather than hurting your body (or in this case, your hair) it helped it—strengthening strands, repairing damaged follicles, and eliminating frizz, while leaving hair healthy, smooth, and wonderfully shiny?
That's the idea behind Crack Leave-In Hair Cream, a lightweight smoothing lotion that contains micro proteins and peptides to penetrate the hair cuticle and promote healing from the inside out. It also contains soothing acai extract and silk proteins, and claims to increase elasticity, block the effects of humidity, and provide a protective shield from the sun, chlorine, and other environmental and chemical stressors.
This stuff is addictive, and in a good way.
I only had the chance to try out a small sample, but already I want more. A little went a long way, and I have to say I loved the instant softness it gave my coarse, frizzy 'fro (the weather Gods were not with me that day). It tamed my flyaways almost instantly, and just a pea-sized amount loosened my tightly wound, unruly curls. Imagine, I thought, what this stuff could do if I were using an entire bottle at home!
So now I feel the need to buy a true tube, and isn't that the first sign of addiction?
Check out this great video on the many ways you can use the styling cream, and if you are still not convinced, find a store that will let you try a sample, as I did. You can also read the comments on Folica.com, the majority of which are very positive.
Quite literally, when you put this styling lotion on, you are a crack head. In a good, very different way than one would normally think.
Just remember the immortal words of Rick James, "Cocaine is a hell of a drug." Also consider my words, ones I hope you'll agree with if you give this stuff a try: "Crack Hair Cream is one hell of a product."
Tags:
Crack Leave-In Hair Cream
,
Haircare