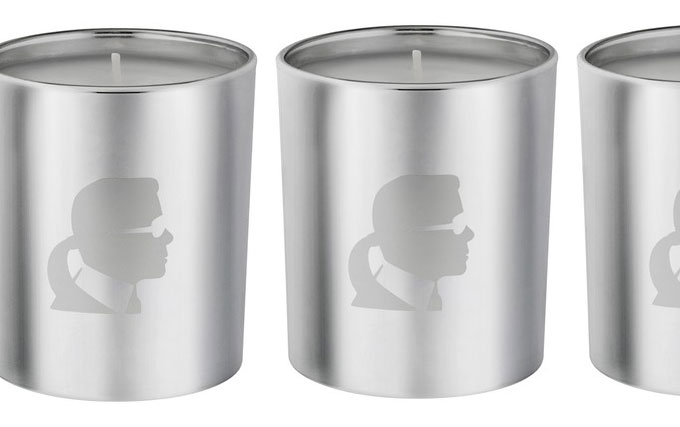 We admit the  Prêt-à-por Karl Lagerfeld teabags were a great way to feel like we were sipping a cuppa with the Kaiser of collaborations. And even though the tea bags weren't really a collaboration, there have been plenty of those over the years.
We've witnessed our share of Lagerfeld launches–from his KARL Net-a-Porter collaboration to a  MELISSA shoe collection and his Shu Uemura beauty range,  the list truly does go on and on…and on…and on.
And just when we thought there couldn't possibly be another item that Karl could invent/collaborate/create,  the collab king does it again with a collection of scented candles.
His candle collection, which is an assortment of his favorite fragrances– debuted this week at Welton London's flagship store in Paris.
With each item embossed with a side silhouette of the iconic Chanel Creative Director,  the line offers three different fragrances — a light and feminine Oud & Bois de Santa (Agarwood and Sandalwood), a deeper Figue & Poivre Noire (Fig and Black Pepper), and Essence Rar.
But is Lagerfeld's menage a trois of olefactory goodness worth the hefty $180 for all three? Depends who you ask.
But if you're like us, $60 per candle may be just a tad too steep, unless, of course, there's $40 worth of gold coins buried under the candle wax.
But not all is lost.
For all you DIY'ers out there, you can always buy a candle that won't compete with any of your usual monthly bills and draw Lagerfeld on it yourself. If you are artistically challenged, slap on a Lagerfeld-themed sticker from Redbubble and your apartment will be smelling fresh in no time.
---

Bridget is a writer, stylist, and vintage clothing dealer based in Kennett Square, Pennsylvania. Bridget enjoys spending time with her boyfriend and guinea pig, and in her spare time sells vintage at local flea markets . Bridget is currently obsessed with Zooey Deschanel's wardrobe on New Girl, Moroccan food, and microcars.
All author posts