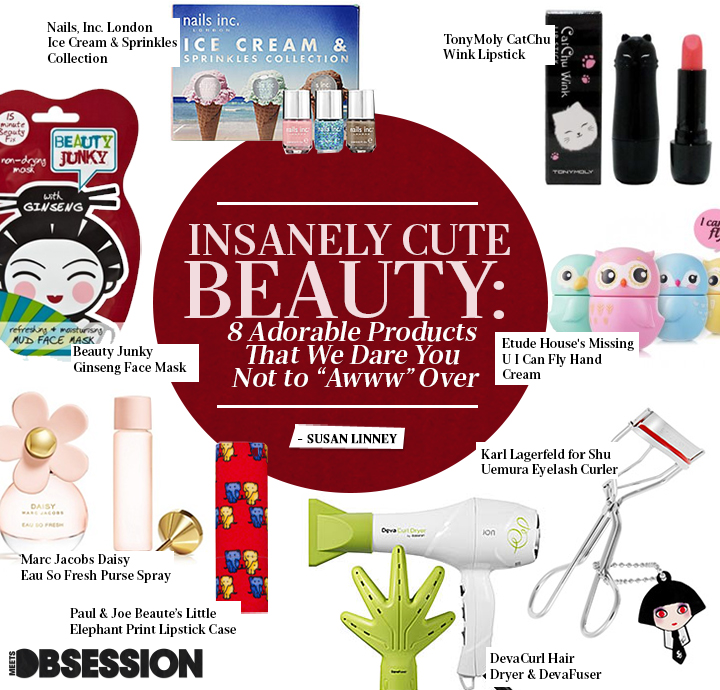 [dropcap]S[/dropcap]ome beauty products we love because they work for our skin, hair or body like none other can. Some products we love because they've been in our lives since puberty and we just can't imagine using anything else. And some products—regardless of how we've learned about them or how long we've used them—become our BFF's the instant we give them a try.
But some products—like the eight examples below—we love simply for how they look. These insanely cute examples look adorable on desks or dressers (that owl hand cream, for instance—I die!)—and they work pretty well, too.
We can't resist the smiling Geisha beauty junky on the packet of this 15-minute ginseng mud mask. I'll be honest, I haven't tried it yet, so I can't vouch for its energy-boosting and moisturizing claims. But I do know how good ginseng is for your skin, and since it's only $2.50, why not "splurge"?
All of Paul & Joe's Beaute's stuff is absolutely adorbs, but this lipstick case really caught my attention. These lovely little elephants will protect your favorite lip color from the spills and scratches often sustained while bouncing around in your beauty bag. Plus, they're holding trunks! That bumps the cuteness factor to 11—all you need is love.
Perfect for spring, Marc Jacob's Daisy Eau So Fresh scent is easy to transport in this pink-petaled mini purse spray. We're sure you'll get some admiring looks when you apply. Thanks to MJ, on-the-go beauty has never looked so sweet.
We introduced you to the adorable Mon Shu Girl back in October and our love of Lagerfeld's whimsical collaboration with Shu Uemura has not waned. I still adore this darling (and functional) eyelash curler, which has a sweet Mon Shu Girl charm dangling delightfully from its handle.
This Cherry Eagle Owl is sitting on my desk and every time I glance at it, I smile. And I remember that my hands could use a little moisture. There are four oh-so-adorable birdies to choose from, and the lotion is formulated with eco-friendly ingredients and is free of parabens, sulfates, ethanol and mineral oil.
A charming cat lipstick that comes in seven shades (my favorite is Pink Wink) looks so cute on a vanity or dresser in line with other lippies. The formula is a bit dry—I make sure to apply a good lip balm first— but in terms of packaging, it's the cat's meow. (Sorry, had to do it).
The summer months are just around the corner, which means sweet, cool beach treats like Sno Cones and ice cream. Nails, Inc.'s kit contains three mini polishes in on-trend pastel shades.  My favorite is the limited edition mint color, which contains big shiny sparkles reminiscent of sprinkles (or "jimmys," if you prefer). 
I like to think that Kermit the Frog—or Shrek, perhaps—is helping me do my hair when I used this hand-shaped diffuser. I suppose this selection is arguably the least "cute" of the bunch (I did liken part of it to ogre, after all), but I find it sweetly quirky, and if you're a curly girl like me, that diffuser works like a charm. Especially if you finish off your style with a touch of Deva's Mirror Curls, which adds extra definition and shine to your locks post-styling.
---

Susan is a freelance writer, born and raised in NYC and currently based in Brooklyn. She's the senior beauty editor for Meets Obsession, and also writes for online publications such as Mamasarollingstone.com, TueNight.com.
and The Huffington Post. Susan had a serious candle hoarding issue that she has no plans to address. She's currently obsessed with Marc Jacobs' new beauty line, her black Zara moto jacket, and Aaron Paul.
All author posts