[column size="two-third"]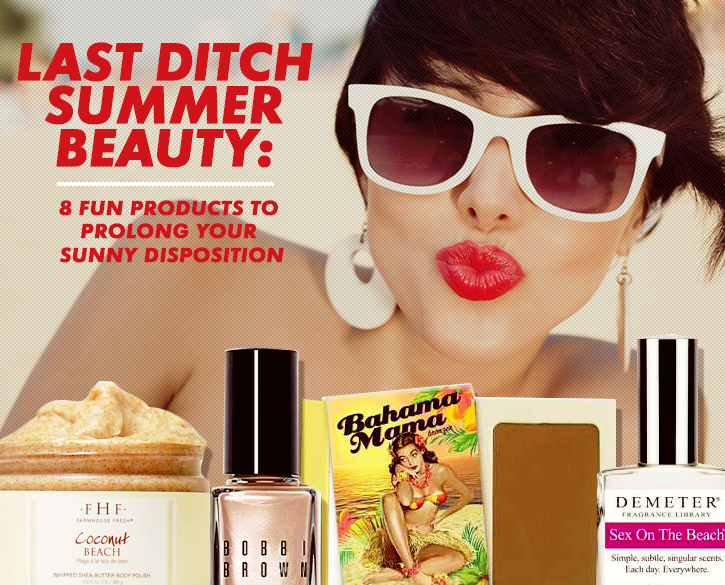 [/column]
[column size="one-third" last="true"]
[justified_image_grid link="file" ids="55546,55542,55540,55545,55544,55543,55541,55539″ row_height=180] [/column]
Summer is quickly coming to an end, and as excited as I am for fall boots, I'm still not ready to shed my flip-flops just yet. In fact, I plan to squeeze every ounce of sunshine fun that I can over the next two weeks. These eight products are perfect for my last ditch summer run—and might just help me extend summer (in my mind) for even a few weeks more.
This moisturizing oil smells exactly like the beach. Smooth it on, sit on your couch, close your eyes and—poof!—you're seaside. I love wearing this on rainy days or when I'm out at night rocking beachy waves and a boho-chic dress.
An excellent hair volumizer and texturizer any time of year, Philip B's mist instantly evokes thoughts of the ocean. Kukui, coconut oils, and sea salt give your hair great, beachy body, as well as an amazing summertime scent.
Extend that beach house smell by putting a bottle of this coconut-and-melon scented hand soap on your sink. It will still be just as cleansing and moisturizing when September rolls around.
Let your glow go gradually—and at the speed of your choice—with this excellent, moisturizing self-tanner.
A light, moisturizing, 90% sugar scrub is a great way to reinvigorate your skin—and your upbeat, beachy mood—during your morning shower (or evening) shower.
Polish your fingers and toes with this pretty seashell pink, which has just a hint of shimmer. It's definitely a summer shade, but is neutral enough to look nice year round.
Keep your skin sun-kissed with this matte, sheer bronzer. The fewer layers you apply, the less bronzy you'll be, so you can adjust your beach-bum hue gradually as the temps begin to cool.
Have one last summer fling with this refreshing, fruity, cocktail-scented spray.
---

Susan is a freelance writer, born and raised in NYC and currently based in Brooklyn. She's the senior beauty editor for Meets Obsession, and also writes for online publications such as Mamasarollingstone.com, TueNight.com.
and The Huffington Post. Susan had a serious candle hoarding issue that she has no plans to address. She's currently obsessed with Marc Jacobs' new beauty line, her black Zara moto jacket, and Aaron Paul.
All author posts