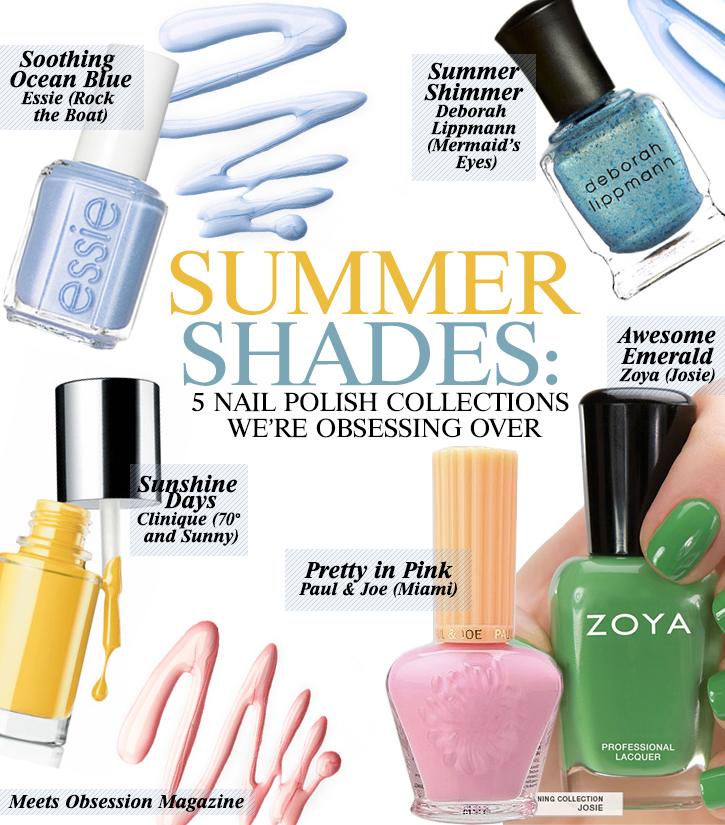 One of our favorite things about summer beauty? The lovely, limited-edition nail polishes that are released each season by those brands we absolutely adore. And this summer is no exception.
Here, we've rounded up five of our favorite collections for 2013—as well as the one standout shade from each that we're totally obsessed with.
Pretty in Pink
Paul & Joe's Summer 2013 Limited Edition Nail Polish Collection contains five bright, pastel colors that scream summer fun. And as always, Paul & Joe nails it with the packaging. The 1950s vintage-style bottles are perfect for any retro vanity.
SHADE WE'RE OBSESSED WITH: The perfectly pink Miami.
Awesome Emerald
Zoya's 2013 summer special consists of two limited edition, sun-inspired lines: Stunning, which contains six shiny, creamy colors,  and Irresistible, which includes six majorly metallic shades.
SHADE WE'RE OBSESSED WITH: The gorgeous, grassy green Josie.
Soothing Ocean Blue
Essie's Naughty Nautical Collection is perhaps one of the best of the Summer 2013 bunch. Filled with both bright shades and soft, sparkling hues, the six-piece lacquer set is both beautiful and fun. Anchors away!
SHADE WE'RE OBSESSED WITH: The shimmery, ocean-blue hued Rock the Boat.
Sunshine Days
Clinique's 2013 limited edition offering is called A Different Nail Enamel For Sensitive Skins. It consists of 15 gorgeous, glossy shades that are all formulated for easily irritated eyes and skin. If you're often bothered by the smell of nail enamels, this is the set for you. And the stunning colors are in no way compromised.
SHADE WE'RE OBSESSED WITH: The scorching, sexy yellow 70° and Sunny.
Summer Shimmer
The polishes in Deborah Lippmann's 2013 'The Mermaids" Summer Collection are all filled with sparkly sequins, which certainly make for magical manis. Statement making and eye-catching, these four gleaming shades are a must for anyone who loves to sport ornate nails. Paint one nail with a different shade for a lovely, rainbow look.
SHADE WE'RE OBSESSED WITH: The sequined blue, metallic Mermaid's Eyes.
---

Susan is a freelance writer, born and raised in NYC and currently based in Brooklyn. She's the senior beauty editor for Meets Obsession, and also writes for online publications such as Mamasarollingstone.com, TueNight.com.
and The Huffington Post. Susan had a serious candle hoarding issue that she has no plans to address. She's currently obsessed with Marc Jacobs' new beauty line, her black Zara moto jacket, and Aaron Paul.
All author posts