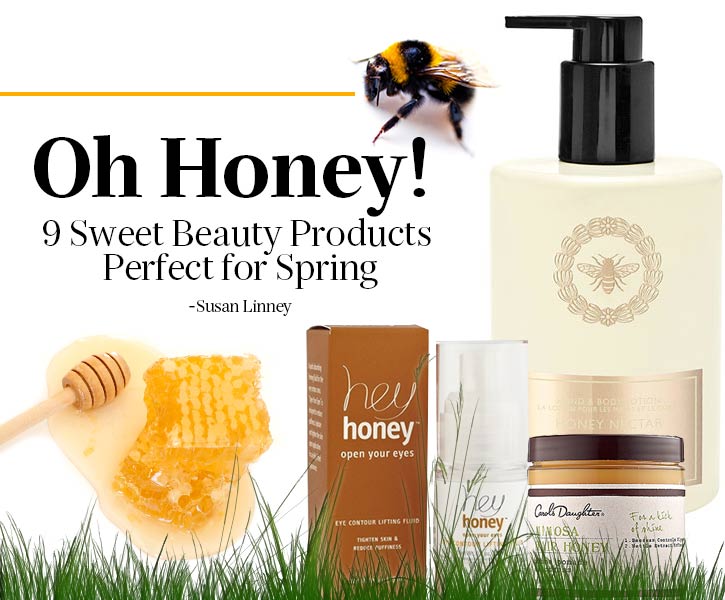 [dropcap]S[/dropcap]pring is coming at a maddeningly slow pace here in New York City, but finally, the signs of post-winter renewal are starting to appear.
Nature is doing its thing: the temps are warming, the birds are chirping, the sun is shining, and those little black-and-yellow honey bees are starting to get busy. Pollination is their gig, and they work hard so they can return home to their hives and make honey from the nectar they've harvested during their shift.
We all know that honey is a sweet treat for our taste buds, but it also happens to be a beneficial ingredient for skin and hair. It contains nutrient-rich amino acids, skin-soothing ceramides, vitamins C and B, as well as antioxidants that help protect against damaging UV rays. Honey also has antibacterial properties that help heal and soothe minor cuts and scrapes.
So I'm going to try to have a little more respect for those busy little bees this spring, even though I'll always fear their painful sting.
We have them to thank for this natural beauty ingredient,  including the following nine honey-rich products that I'm currently obsessing over.

This USDA certified organic scrub is a fantastic facial exfoliator.
I especially like using it on my neck—it's not too rough or grainy, so I don't feel like I'm aggravating or tugging my delicate décolletage area.
After rinsing, my skin feels smooth and soft, yet not at all tight. I'm currently keeping a tub in my shower for refreshing morning scrubs.
The whole Hey Honey! line seems pretty cool, but I've only had a chance to try this eye contour serum, which I loved because of its almost instant de-puffing ability.
Seriously, I was looking rough and it worked right away, over my makeup. As for long-term benefits like fine-line and wrinkle fighting, I'll report back when I've used it for a month. But if you're looking to deflate ugly under-eye bags, this definitely does the trick.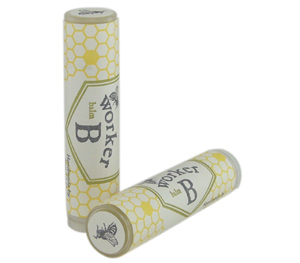 I just love this 100% hive-derived line, which I discovered just a few weeks ago while browsing the apothecary section of ABC Carpet & Home.
All ingredients are natural and contain no fillers— which means that you could eat each and every product if you so desired. The lip balm is thick, but not sticky or heavy, giving it long-lasting soothing and smoothing ability.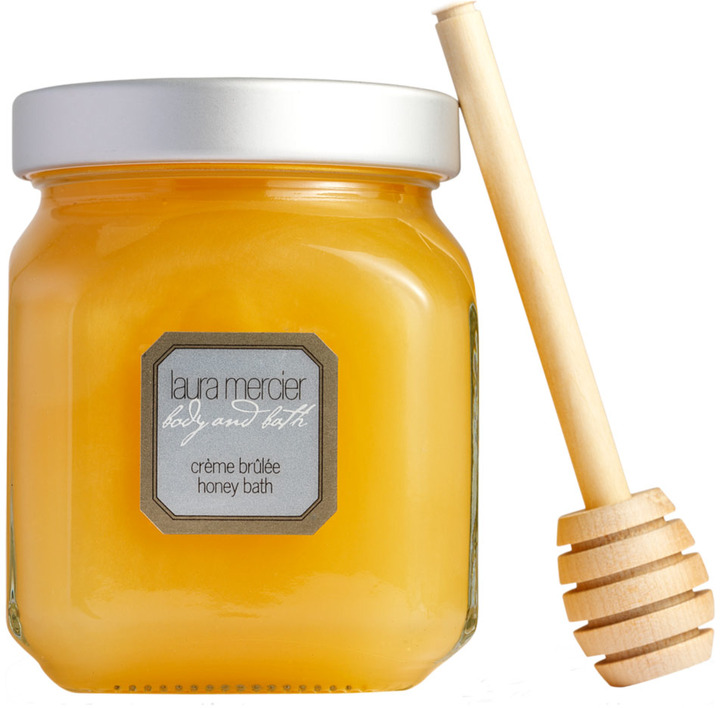 A Laura Mercier fan favorite, this rich and creamy bath emulsion turns tub time into a truly indulgent spa experience. I love the wooden honey dipper, which helps you add just the right amount of suds that you desire. And the smell is divine, with hints of vanilla, musk, and of course, honey.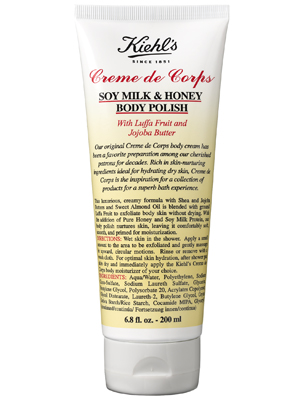 Packed with pure honey and soy-milk protein, Kiehl's Creme de Corps Soy Milk & Honey Body Polish  scrubs lightly, yet effectively, and exfoliates super dry derma, which is perfect for skin that's been struggling during the cold winter climate.
It also contains Luffa fruit and Jojoba butter to make sure there's plenty of moisture in the mix, leaving skin soft, smooth, and flake-free.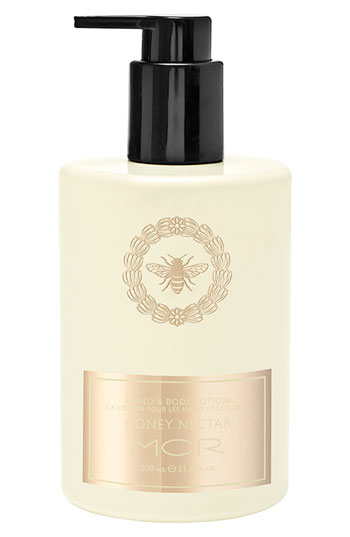 The packaging couldn't be cuter, and MOR's lotion is perfect for moisturizing extra dry, post-winter skin.
Coconut oil, brown sugar, candied almonds and vanilla milk all combine with juicy honey nectar for an amazing fragrance that's definitely sweet, but not over-the-top or overwhelming.

It's time to get those feet summer-ready!
Slough off dead skin cells and callouses while treating tired toes with this wonderfully fragrant serum. Honey, papaya and pineapple extracts, sweet cloves, cinnamon and aloe all work together to exfoliate, moisturize, and bring your cracked, dehydrated feet back to their prime, warm-weather condition.

De-frizz and add shine with this cuticle-smoothing pomade.
It's made with Nettle extract, cocoa and Shea butters (for serious softening) as well as beeswax (for smoothing strands and preventing fly-aways).
Now I know, beeswax isn't honey (it's what bees use to build the honeycomb cells where they store their honey), but I'm not one to get too technical. The fact is, this pomade is fantastic for adding shine and smoothing frizz, and it's sweet honey scent is enough for me.

Of course I had to add a candle into this roundup, and since I love all things Nest, I splurged on this fig and honey offering.
It has more of a vanilla scent to it, but there's a definite honey aroma as well. And as with all of Nest's candles, it fills the room with just the right amount of fragrance.
---

Susan is a freelance writer, born and raised in NYC and currently based in Brooklyn. She's the senior beauty editor for Meets Obsession, and also writes for online publications such as Mamasarollingstone.com, TueNight.com.
and The Huffington Post. Susan had a serious candle hoarding issue that she has no plans to address. She's currently obsessed with Marc Jacobs' new beauty line, her black Zara moto jacket, and Aaron Paul.
All author posts