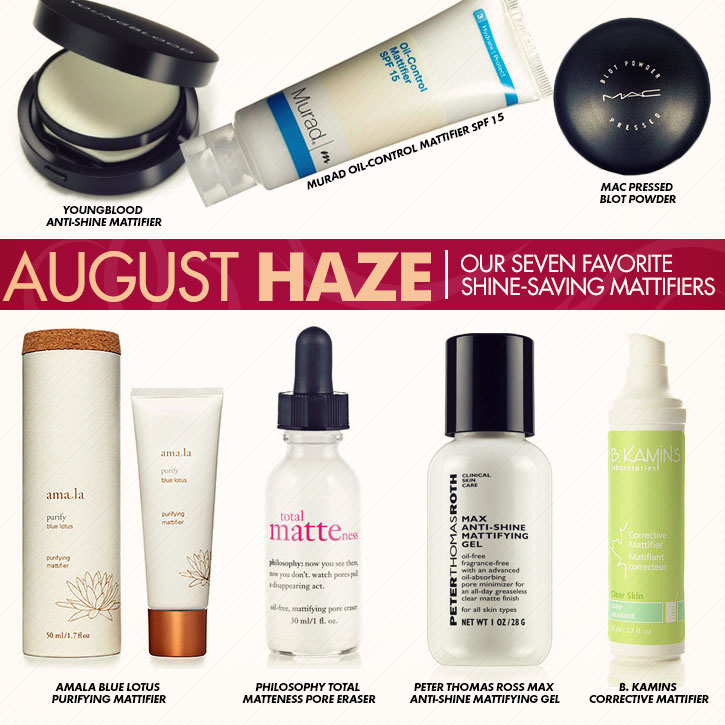 Sometimes blotting papers are just not enough. Especially in hot, thick, humid weather, which is what the month of August is pretty much all about. Make sure your skin is slick-free (and stays that way throughout the day) with these seven superb shine-stoppers.
This gel reduces shine dramatically, as well as the appearance of large pores. Apply to clean skin before moisturizer/sunblock and makeup (it absorbs fast, so you won't have to wait long). It's oil- and fragrance-free, and also works well when dabbed over makeup for touch ups during the day.
100% organic, the ingredients in this shine-stopper include blue lotus flower, which is rich is vitamins and minerals, white tea and algae extract. Combined, the ingredients help absorb excess oil production and purify pores, and is packed with skin-soothing antioxidants. It's lightweight, and works best when not out in extreme heat, but its botanical benefits are so good for your skin, and any extra application is well worth it.
Murad's mattifier stops oil right on contact, which makes it great for touch-ups during the day. It's meant to be applied after cleansing for an all-day matte look, but if you feel shine coming on, a small dab on the nose, cheeks, or forehead will stop it immediately. It's also ideal for acne-prone skin: it contains zit-zapping willow bark to prevent breakouts and keep pores clear.
Good oil battles bad with this mattifier: Youngblood's powder absorbs unwanted sebum on the face while pumpkin seed oil purifies and keeps skin balanced. The all-mineral line is very gentle and works well for those with sensitive skin.
Another great option for people with acne-prone skin, B Kamins Corrective Mattifier contains salicylic acid to keep breakouts at bay while it controls excess oil. It also contains antioxidant-rich vitamins to nourish skin and prevent it from becoming overly dry, producing a smooth and even matte finish.
Natural bamboo extract absorbs and controls unwanted oil, while lentil seed extract tightens pores and make them less visible. The end result is a smooth, shine-free face that lasts all day long.
MAC's powder is designed to control shine without adding any color or texture to already existing product or makeup on your face. As such, it's the best oil-absorbing touch-up product to always keep in your purse. Which is easy, since the compact is small and comes complete with its own application puff.
---

Susan is a freelance writer, born and raised in NYC and currently based in Brooklyn. She's the senior beauty editor for Meets Obsession, and also writes for online publications such as Mamasarollingstone.com, TueNight.com.
and The Huffington Post. Susan had a serious candle hoarding issue that she has no plans to address. She's currently obsessed with Marc Jacobs' new beauty line, her black Zara moto jacket, and Aaron Paul.
All author posts