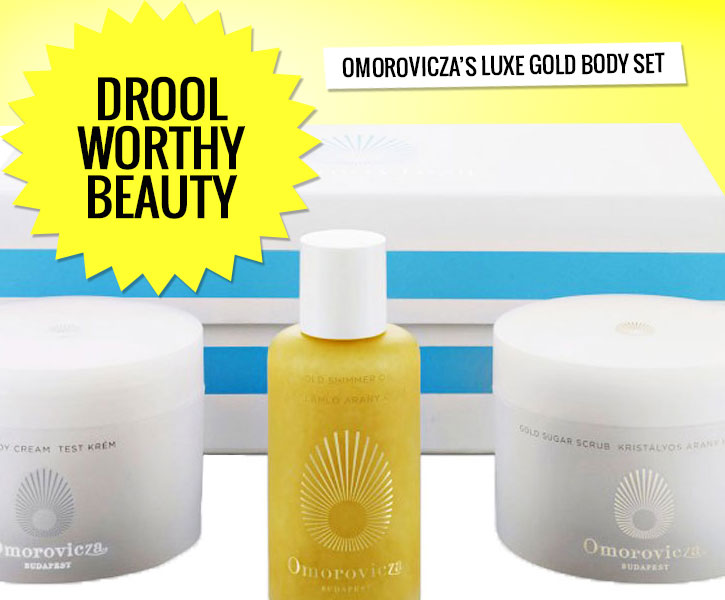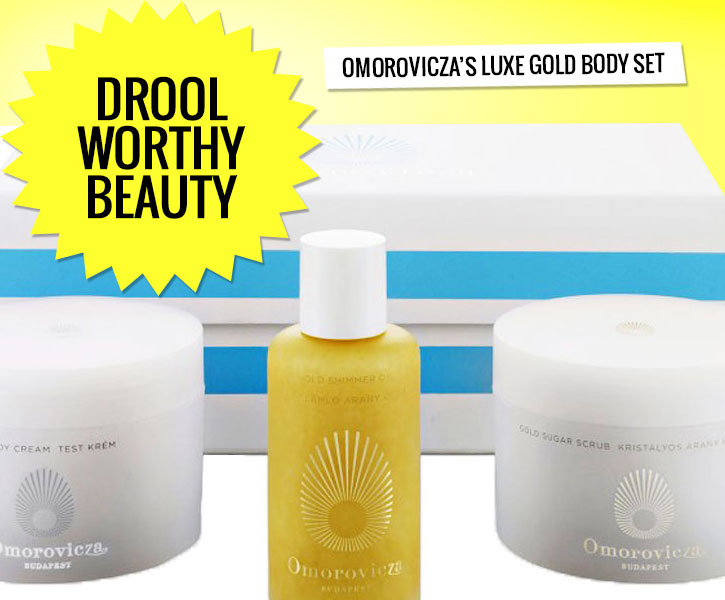 I'm a very lucky, happy person, and I count my blessings (or at least try to) every day. Plus, my job is awesome and it allows me to try a ton of amazing beauty products, which is a truly terrific perk.
That said, a beauty-obsessed girl can still have her fantasies, right?
So here's mine: Omorovicza's Gold Body Set.
It comes in at a whopping $225, so this is a dream-only product trio for me and my wallet, but it's the set I'd love to own if all of a sudden, money didn't matter.
Omorovicza is an amazing brand. Based in Budapest, the luxury skincare line utilizes the healing properties of Hungary's thermal waters, which were first discovered 2,000 years ago. Omorovicza has also harnessed the anti-inflammatory and wrinkle-busting powers of gold (yes, gold – it's good for you!), and their products contain actual particles from the skin-soothing element.
The set I'm obsessing over contains three of Omorovicza's key goods:
The Gold Shimmer Oil, which I was lucky enough to once receive as a gift, is perfect for adding a luxurious dose of sheen and sparkle to your skin for summer.
The Gold Sugar Scrub, which contains gold particles, cane sugar and ylang-ylang, sloughs off those dead skin cells like a dream.
The Body Cream, which contains a host of exotic, moisturizing ingredients, including apricot kernel, plum almond, and rice germ oils, all of which supply the skin with essential nutrients; Omega 6 ceramides which contain anti-aging properties; and Jojoba oil, Shea butter and apple pectin, which are all super-hydrating and keep skin extra supple.
Plus, it all comes packaged in a pretty little gift box.
So as you can see, this is a beauty lovers dream. And sometimes,  I suppose it's good to want things you can't always have. That's what Pinterest is for, right?
Omorovicza The Gold Body Set, $225.00
Tags:
Beauty
,
Omorovicza
,
skincare