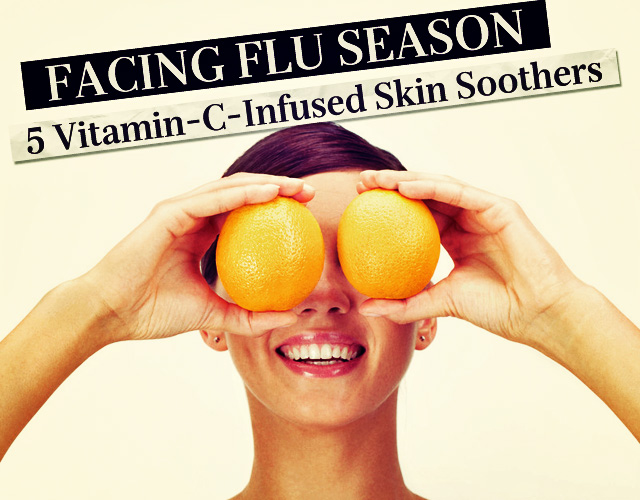 The cold air has settled in here on the East Coast, and while that may mean great things for my hair (low humidity = less frizz = soft and smooth blowouts!), it means something much less fashionable for my immune system.
Everywhere I turn, it seems like someone is sick, and it doesn't help that I just watched Contagion for the first time—twice in one week—on HBO. (I know I'm behind, but I just can't get Gwyneth's death face out of my head.) So I'm doing my best to avoid this miserable bug, which includes popping a ton of vitamin C pills and chugging OJ like it's going out of style.
Still, it's no guarantee that I won't get sick—I've tried this prevention method before and failed. But what I'm more confident in are the benefits my skin can reap from vitamin C.
The collagen-producing, antioxidant-packed nutrient is great for brightening skin tone, smoothing fine lines, reducing free radical damage and erasing wrinkles. Which is why I've been on a quest to find the best vitamin-C-infused beauty goods. Below are five of my faves.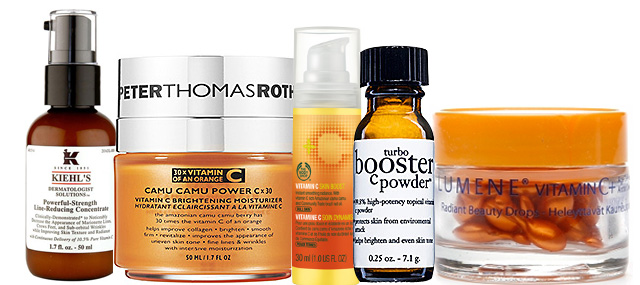 [spacer size="20″]Kiehl's Powerful-Strength Line-Reducing Concentrate, $58
Packed with 10.5% pure vitamin C, Kiehl's fine-line busting serum is great for softening crinkles around the mouth and crow's feet around the eyes.
Peter Thomas Roth Camu Camu Power C x 30 Vitamin C Brightening Moisturizer, $72
Camu Camu is an Amazonian berry that has 30 times the vitamin C of an orange. This moisturizer contains a ton of the super fruit, as well as vitamins A, D and E—all of which help boost collagen production and nourish dry skin.
The Body Shop Vitamin C Boost, $26
Give your skin its daily brightening boost with this face wash, which contains that super potent Camu Camu fruit, in addition to moisturizing Brazil nut oil.
Lumene Vitamin C+ Radiant Beauty Drops, $22
Lumene's little orange pods release vitamin C into the skin slowly, maximizing its effectiveness. The potent drops also contain Lingonberry seed oil, which helps to brighten and smooth dull derma.
Philosophy Turbo Booster C Powder, $36
This is a great option because you can add it to the lotions that you already love. Sprinkle a bit of Philosophy's c-enriched powder into your favorite moisturizer or serum for an extra shot of the vitamin's free-radical-fighting powder.
---

Susan is a freelance writer, born and raised in NYC and currently based in Brooklyn. She's the senior beauty editor for Meets Obsession, and also writes for online publications such as Mamasarollingstone.com, TueNight.com.
and The Huffington Post. Susan had a serious candle hoarding issue that she has no plans to address. She's currently obsessed with Marc Jacobs' new beauty line, her black Zara moto jacket, and Aaron Paul.
All author posts