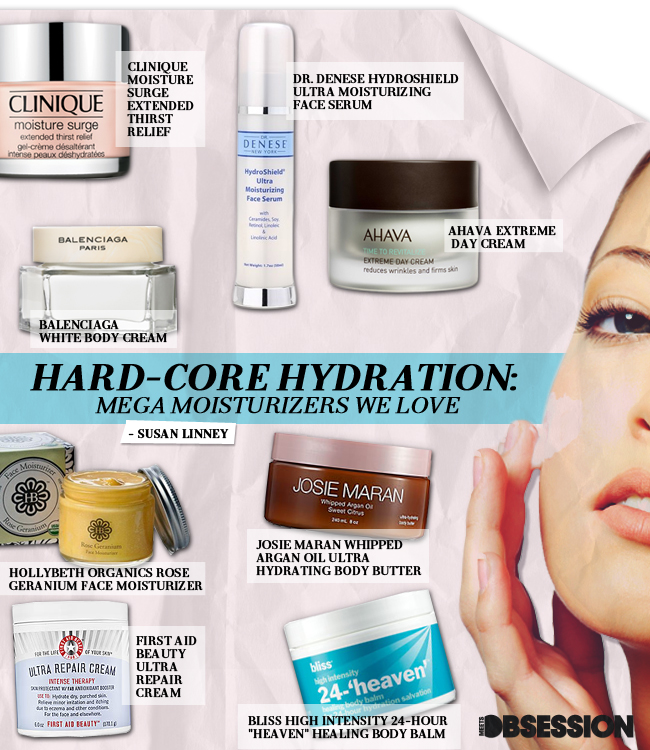 Both face and body need special protection against the derma-drying elements of winter. If you've been slacking in the skincare department since, say, December, fear not. There's still some winter left (boo!), and plenty of time to "de-scale" and get your skin back to its healthy glow. We've rounded up eight seriously soothing creams that will feed your moisture-starved skin ASAP. Plus, they're perfect for transitioning into spring.
HollyBeth Organics Rose Geranium Face Moisturizer
A great organic option, this antioxidant-infused face lotion works particularly well for rosacea sufferers.
AHAVA Extreme Day Cream
Filled with exotic ingredients like Dunaliella algae and Himalayan raspberry root, AHAVA's luscious lotion firms saggy skin while it heals and hydrates.
Clinique Moisture Surge Extended Thirst Relief
It may be lightest of the bunch, but nonetheless this cream-gel hybrid has incredible skin-quenching powers. My mom has used it for years, and just one look at her face tells me it works. Well.
Dr. Denese HydroShield Ultra Moisturizing Face Serum
This serum almost instantly eases the appearance of fine lines on your face due to dryness. It's best used daily, but I like to keep it in my bag as an on-the-spot dry skin soother. It's great for smoothing unexpected flakes without messing with your makeup.
Balenciaga White Body Cream
Don't forget your décolleté! Slather it with Balenciaga's deliciously decadent body cream, which is lightly fragranced with the brand's signature scent.
Bliss High Intensity 24-Hour "Heaven" Healing Body Balm
Lactic acid provides serious exfoliating action, while colloidal oatmeal eases the itch and discomfort of extremely dry skin. Try it on your most parched parts and we bet you'll see a difference stat.
Josie Maran Whipped Argan Oil Ultra-Hydrating Body Butter
Rich in vitamin E and essential fatty acids, Argan oil is already a fantastic dry-skin soother. Add the ingredient to a whipped body butter, and you've got a powerful body lotion that revitalizes and enriches. Plus, the sweet citrus scent is a great morning-time boost.
First Aid Beauty Ultra Repair Cream
This lotion is very thick, and is best for soothing seriously scaly skin or for sufferers of conditions such as dermatitis, irritant eczema, allergic eczema, or keratosis pilaris. That said, the cream absorbs remarkably fast, and I love using it on my feet. It softens my coarse calluses like nothing else.
---

Susan is a freelance writer, born and raised in NYC and currently based in Brooklyn. She's the senior beauty editor for Meets Obsession, and also writes for online publications such as Mamasarollingstone.com, TueNight.com.
and The Huffington Post. Susan had a serious candle hoarding issue that she has no plans to address. She's currently obsessed with Marc Jacobs' new beauty line, her black Zara moto jacket, and Aaron Paul.
All author posts