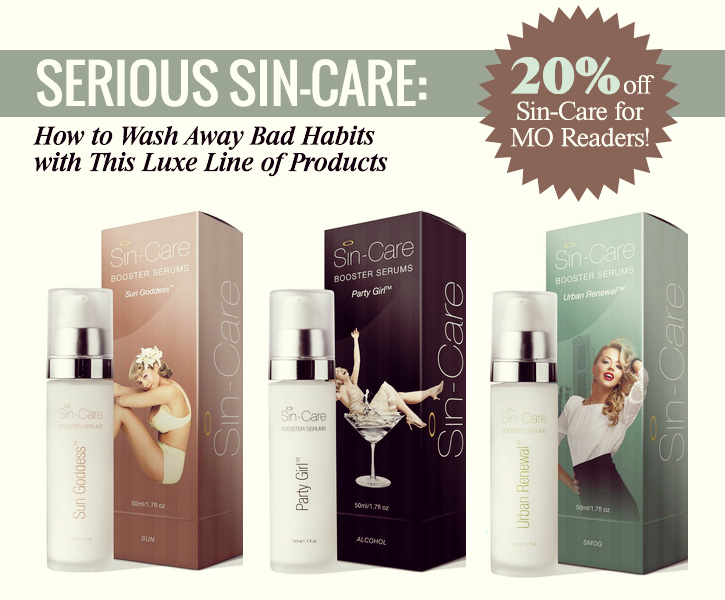 Everyone has a bad habit or three. It's just human nature. Whether you tend to stay out too late or succumb too often to your sweet tooth, I defy you to find me one human who does not have (at least) one thing he or she is trying to either cut down, on or do more of.
Well guess what? There's a skin care line for that! And until August 31st, Meets Obsession readers can try them for out for 20% off.
The line is called Sin-Care, and I've honestly never seen such a cute—and honest— dermalogical concept. It contains nine "Booster Serums," each specially formulated to target a specific vice. Following are the main three I need, and you can bet I'll be clicking these into my shopping cart (at 20% off!).
First, there's Sleep Doctor, which is made for anyone lacking in the ZZZs department (new moms, overworked execs, people like me who just stay up too late). The serum contains ingredients such as Hyaluronic Acid, which reduces fine lines; Horsechestnut, which soothes and helps with puffiness; pineapple, which contains a fruit acid that's known to ease signs of fatigue (such as dullness); and rosemary, which helps to neutralize skin-damaging radicals.
If you know some of my past history, you'll know that, thankfully, I'll no longer need Party Girl, which comes to the aid of fun-loving ladies who may have over-imbibed. (Though there was a time when I would have sold out Sin-Care's entire stock.)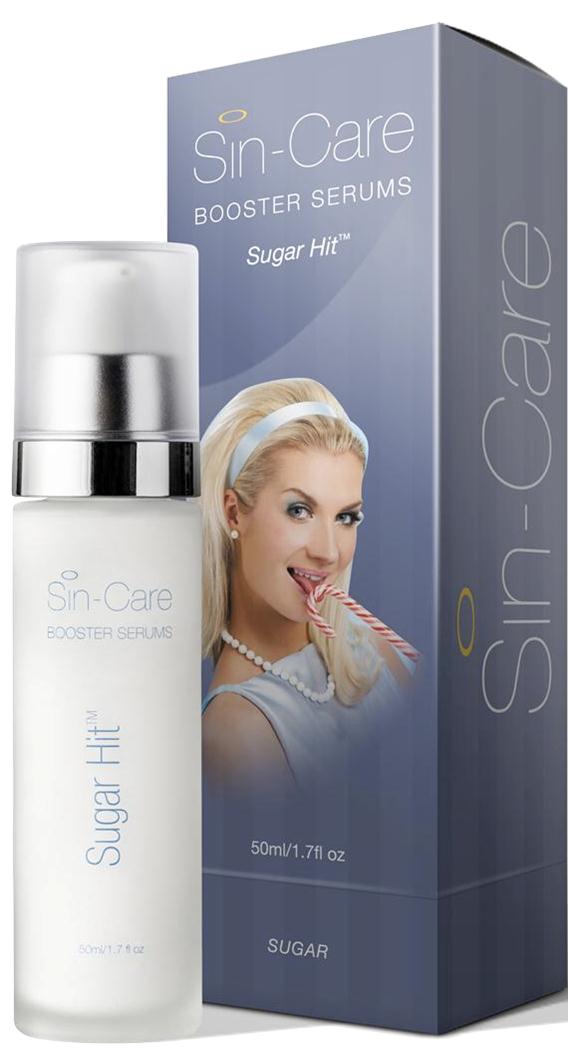 However, now I'm in desperate need of Sugar Hit, a serum that contains lychees, glycogen and Uva Ursi leaf, all of which help to reverse the damage that's done as a result of high sugar intake. It's bad, almost as bad for your skin as sun exposure, and since I can't quite put down those Jolly Rancher's  just yet, I'll slather some of this stuff on instead.
And finally—and I'm admitting this to all of you for the first time—I've been sneaking a cigarette here and there. It's awful, I know. Sin-Care, however, has a serum for smokers, and I kind of dig that.
Obviously, we all know smoking is terrible for our health and that everyone in the world should quit this instant. But in reality, that's just not going to happen. Sin-Care gets that, giving us a product—called Smoker's Secret—containing free-radical fighting vitamins and antioxidants, as well as Hibiscus Seed, which reduces muscle cell contractions caused by repetitive facial movements (such as sucking on on a cigarette). No excuse for burning the butts, I know, but nonetheless a great—and honest!—remedy for my skin until I stop.
And since I was born, raised, and still live in NYC, I should probably also snag a bottle of Urban Renewal, which combats the effects of city life on skin with a variety of pollution-protecting ingredients.
Sin-Care also contains a serum called Skin Coach, which is meant for anyone who works out excessively (that will be me never); Sun Goddess, which is perfect for all those beach babes who spend hours in the sun, or for those who may not have applied enough SPF in the past; Line Rewind, which is great for super busy (or lazy) folks who have ignored their skin care routine for a spell; and Relaxation Sensation, which I think anyone and everyone could use, as it cares for skin under stress and helps halt the aging process (as much as possible, of course).
So unless you have a bona fide halo around your head (and where's the fun in that?), there's got to be one—if not many—Sin-Care Serum Booster that will suit you. The line is currently exclusive to BeautySak.com, so click away and take advantage of this awesome discount by using the code "SINCARE20" at checkout.*
Your skin—and your sins—will thank you.
*Discount valid on all Sin-Care Booster Serums until August 31st, 11:59pm EST. Cannot be combined with any other coupon or promotion.
---

Susan is a freelance writer, born and raised in NYC and currently based in Brooklyn. She's the senior beauty editor for Meets Obsession, and also writes for online publications such as Mamasarollingstone.com, TueNight.com.
and The Huffington Post. Susan had a serious candle hoarding issue that she has no plans to address. She's currently obsessed with Marc Jacobs' new beauty line, her black Zara moto jacket, and Aaron Paul.
All author posts