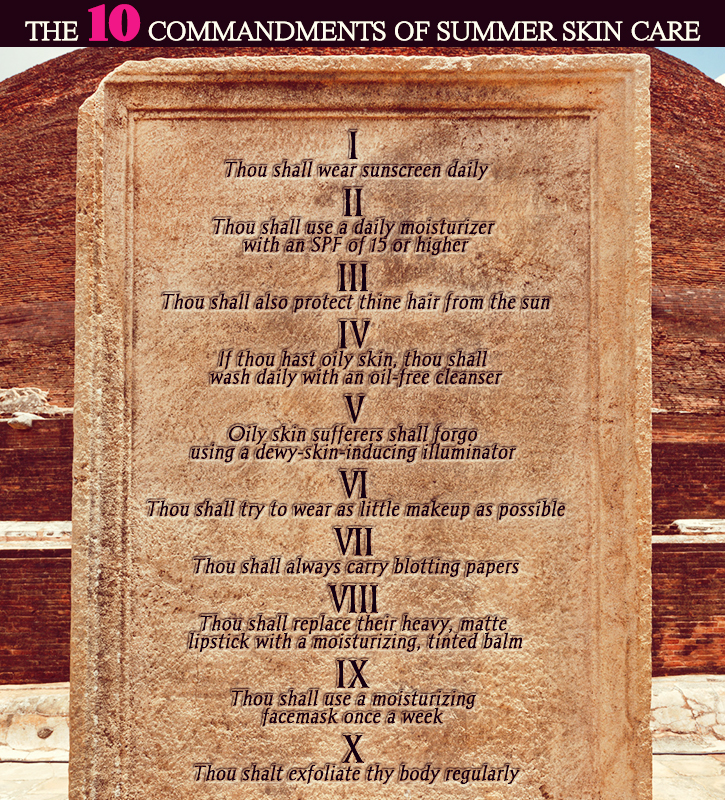 We know that  summer, with its soaring temps, high humidity, and damaging UV rays, can be the most difficult time of the year for your skin. But it doesn't have to be.
Our 10 Commandments of Summer Skin Care will help you maneuver your way through the scorching months to come. Abide by the following decrees, and thou shall be able to manage thy oily skin, damaged hair, and melting makeup without too much distress.[hr]
I
Thou shall wear sunscreen daily, and apply extra sunscreen throughout the day, when at the beach or exposed to the sun for a long period of time.

II

III
Thou shall also protect thine hair from the sun, with a protectant spray, sun hat, or both.

IV
V
Oily skin sufferers shall forgo using a dewy-skin-inducing illuminator and opt instead for a mattifying primer to put on pre-makeup.

VI

VII
Thou shall always carry blotting papers in their pocket or purse.

VIII
Thou shall replace their heavy, matte lipstick with a moisturizing, tinted balm.

IX
Thou shall use a moisturizing facemask once a week (if thou hast oily skin, use a clay-based mask that absorbs oil and helps shrink pores) to keep skin balanced and fresh. For fun, thou can keep said mask in the fridge for a wonderfully cooling facial.

X
Thou shalt exfoliate thy body regularly, to keep it smooth, free of dead skin cells, and to prevent unsightly ingrown hairs, especially in thy bikini area.

---

Susan is a freelance writer, born and raised in NYC and currently based in Brooklyn. She's the senior beauty editor for Meets Obsession, and also writes for online publications such as Mamasarollingstone.com, TueNight.com.
and The Huffington Post. Susan had a serious candle hoarding issue that she has no plans to address. She's currently obsessed with Marc Jacobs' new beauty line, her black Zara moto jacket, and Aaron Paul.
All author posts