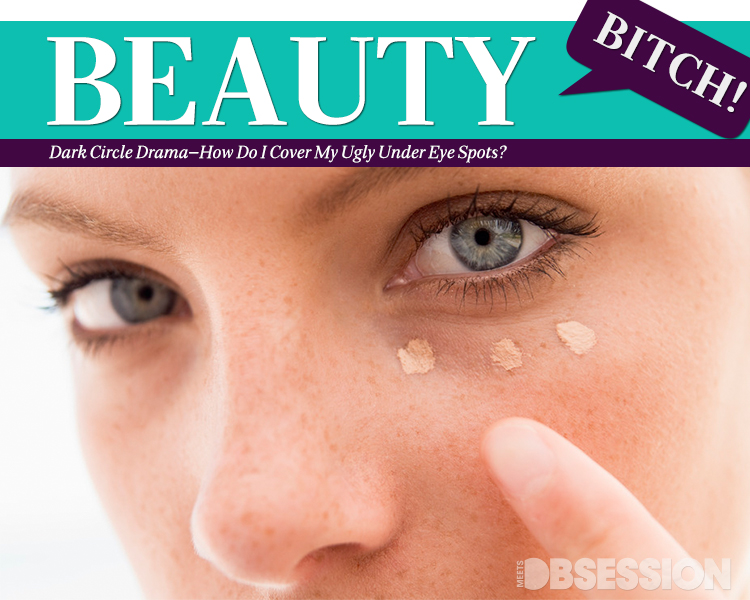 Dear Beauty Bitch:
Like a million other people, I have dark circles under my eyes. I have tried many products, but still "bags ahoy."
Don't get me started on concealers. Everyone makes them and they do very little—at least for me! Can you help?

-Jane R., NYC
[hr]
Dear Jane:
You are certainly not alone in your frustration.  How to deal with ugly under eye circles is an incredibly common beauty bitch. It's not an easy task and quite frankly, I suck at it as well, so I reached out to two pro makeup artists to get us some answers.
Both experts made clear that there are three major factors for successful coverage.
1: Determining the true hue of your dark spots. 2: Finding a product (or products) which contain pigments that will properly conceal said discoloration. And 3, learning how put on your concealer properly.  Concealer is not a "one product fits all" situation and getting it right requires a little know-how in terms of application.
As luck would have it, Kevin James Bennett—an Emmy-award-winning makeup artist and beauty industry expert—just recently posted an article about this very subject on his website. It's incredibly informative, covering everything from why we get these dreaded dark spots in the first place, to the connection between the amount of melanin in your skin and the color of your complexion. Check it out. It's in-depth info that addresses your concern, and covers far more than I could in this column. Bookmark it now.
One thing Kevin makes very clear is that correct application is key. "Color correction concealer should be applied before foundation or regular concealer," he stresses, "and used only on the discolored areas." In addition, "After you cover the discoloration, lightly dab foundation or concealer over it and then blend the edges."
Penny Sadler, a Dallas-based makeup artist and beauty expert, also has some great advice on how to tackle those dreaded dark spots. "'Concealer' is not the magic word," she says. "It's really about color correction." Even if you are using the best, most expensive under eye products on the planet, they are not going to work if they are not suited for your specific coloring, or if they are used improperly.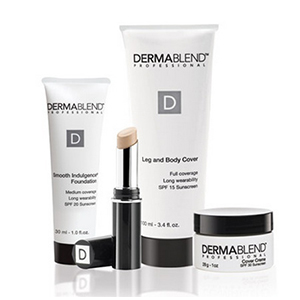 Like Kevin, Penny stresses the importance knowing the color tone of your dark circles (most are dark blue, red or brown, she says). Penny also notes that the texture of the product you use is also important. "You want something that's workable," she explains. "A product that is too moist can smear and slide as the day wears on, while one that is too dry will drag and settle into the creases and fine lines under your eyes." Penny recommends DermaBlend—a cosmetics brand that specializes in corrective coverage. Kevin also suggests a few of his favorite concealers in his post.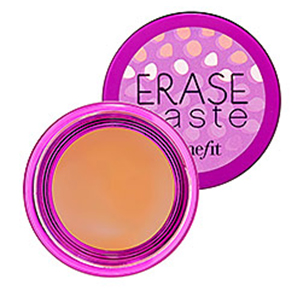 Personally, I love Benefit's Erase Paste. Penny likes this product as well, and it comes with a tiny plastic spatula for super precise application.
There's another awesome suggestion Penny offered that I think would work very well for you, Jane, since you've already tried (and probably spent a pretty penny) on a slew of concealers that didn't pass muster.
Make an appointment with a professional makeup artist who can help you determine the true color tone of your under eye circles, as well as and show you exactly what you need to do and what kinds of products you should to use to successfully conceal your dark spots.
This does not mean visiting your local department store beauty counter, however. While those "experts" may have the best of intentions in wanting to help you look your best, their ultimate goal is to sell a specific line of product, so you'll most likely end up unsatisfied once again.
Instead, contact an independent MUA, and bring your stash of already purchased products with you. He or she will be able to determine which ones are not right for you and why, and perhaps even show you how some of the cover-ups that you thought were worthless could actually do the trick if used correctly.
How do you find an expert for something like this? Hit the Internet. "Look online for makeup artists in your area," Penny suggests. "Lots people contact me for makeup lessons like this, and many of them just find my info on Google and give me a call." Most MUAs offer this service (Penny does), so search around and see what you can find. (There's no shortage in New York City, I can tell you that for sure).
I really love this suggestion, because you're basically getting your own private tutorial, and you might even be able to salvage some of those concealers that you were ready to toss into the trash.
And you can look as the money spent on your private lesson as a sound investment in your under-eye future—you'll no longer waste your cash on products that won't work, and you'll finally be able to truly conceal your dark spots for years to come!
---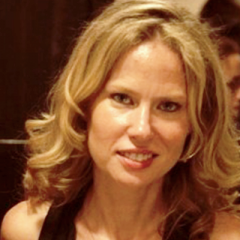 Susan is a freelance writer, born and raised in NYC and currently based in Brooklyn. She's the senior beauty editor for Meets Obsession, and also writes for online publications such as Mamasarollingstone.com, TueNight.com.
and The Huffington Post. Susan had a serious candle hoarding issue that she has no plans to address. She's currently obsessed with Marc Jacobs' new beauty line, her black Zara moto jacket, and Aaron Paul.
All author posts