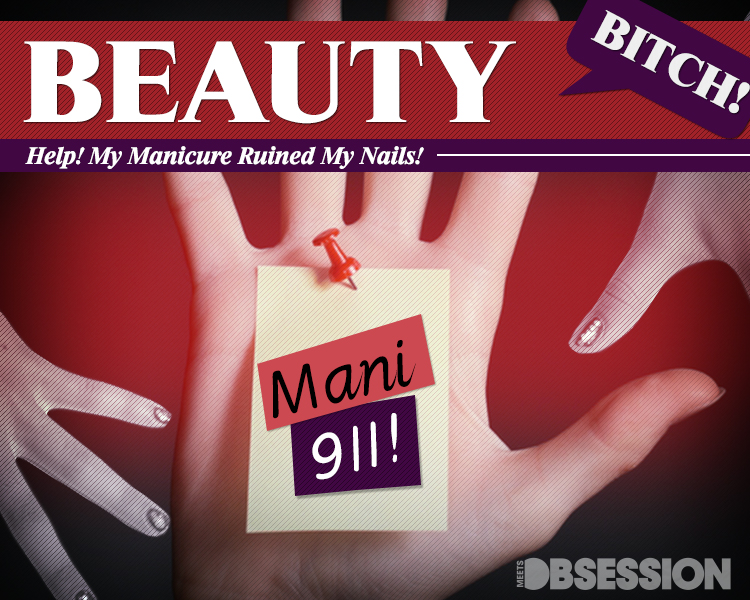 [alert type="info"]
Dear Beauty Bitch:
A few months ago, I got a manicure (using straight up OPI, no gel or anything fancy). Since then, my nails have gotten so completely weak that they're splitting and ripping. I also have a bunch of hangnails that I've never had before.
I was constantly peeling and picking at the polish when it was on, which I'm sure was not a good idea because it made the problem worse.
When I finally took the polish off with remover, my nails were weaker than ever, tearing close to the nail bed. I've always had to keep my nails super short, but after this particular manicure I had to trim them down as close as I could and essentially start over.
What can I do to strengthen my nails? They've never been strong, but I swear since this manicure they've been worse than ever. Help, please!
-Rachel A., NYC
[/alert]
Dear Rachel:
I'm so sorry you had a miserable mani experience! As a fellow New Yorker, I know how easy it is to take an unintentional gamble on a less-than-perfect salon, since there is pretty much one on every block.
But personally, I've never had an experience as bad as this! So I turned to Carla Kay, celebrity manicurist for Cloutierremix.com, who had some great advice about what to watch out for when your nails are being worked on.
"You have to be very careful that your manicurist does not over-file or over-buff your nails," she says. "If they are being buffed with a strong buffer, especially if you already have weak nails, this will thin them out and cause damage."
The moment you sit down, make sure you tell your manicurist that you have delicate nails, and that they need to be treated very gently. In addition, "do not let your manicurist over-file on the corners," Carla says. "This is what can cause hang nails, and often they don't crop up until a day or two after your manicure."
So lesson number one: Watch what your manicurist is doing and be sure to tell her (or him) anything he or she needs to know about your nails, including already existing nicks or cuts you may have on your fingers and hands to prevent infection.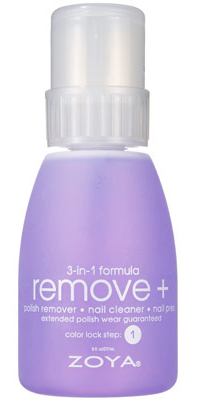 In terms of strengthening weak nails, Carla's got a wealth of good tips.
"I do not recommend wearing polish for more than a week," she says, "and make sure to remove it with a nourishing, non-acetone remover. My favorite is Zoya' Remove Plus Nail Polish Remover, because it's extremely gentle and your nails do not feel dried out after the polish is removed."
And you're right, Rachel—peeling at polish is a definite no-no. "Never pick the polish off," Carla says, "because this can cause the layers of your own nail to come off along with the polish." (Which sounds like what happened to you.)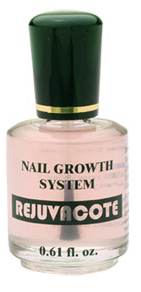 "If your nails are peeling and naturally thin," Carla adds, "one of my all time favorite treatments is Rejuvacote by Duri Cosmetics." Try to give your nails some serious strength training, Carla says, by applying this treatment every day for a week, and avoiding wearing any nail polish for at least a month.
"You should see your nails start to repair themselves after about 30 days," she says. "Then, if you want to start wearing polish again, use Rejuvacote as both a base and top coat. But always remove your color after a week, and give your nails a little time to breathe, free of nail color."
We hope this info has been helpful, Rachel. I rarely pay attention to what my manicurist is doing when I stroll into a randomly selected NYC nail spot, so this has been a great lesson for me, as well.
We wish you strong, solid, and gorgeous nails in your future!
---

Susan is a freelance writer, born and raised in NYC and currently based in Brooklyn. She's the senior beauty editor for Meets Obsession, and also writes for online publications such as Mamasarollingstone.com, TueNight.com.
and The Huffington Post. Susan had a serious candle hoarding issue that she has no plans to address. She's currently obsessed with Marc Jacobs' new beauty line, her black Zara moto jacket, and Aaron Paul.
All author posts