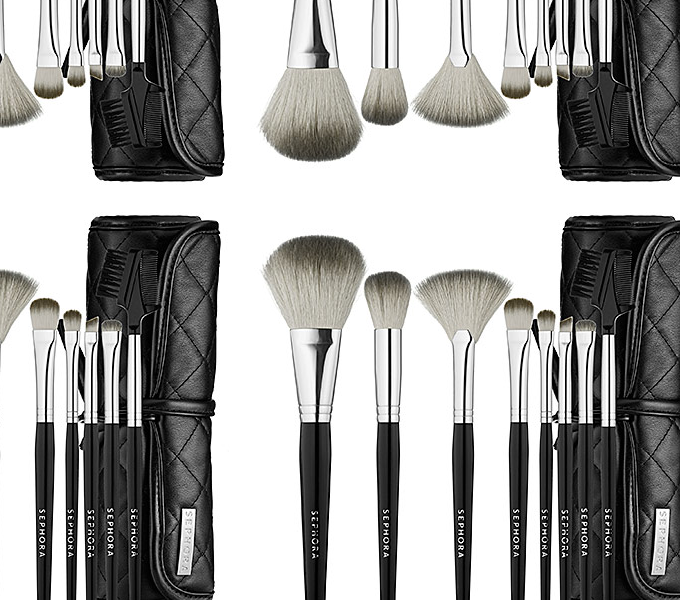 After researching and writing our recent Beauty Bitch piece about makeup brush cleanliness, I decided to take a long, hard look at at my own stash of bristled powder and bronzer brushes.
And all I could say was: "Ew!"
There was a time when I was diligent about washing them, but honestly, I don't think I'd cleaned those things in months (talk about being a hypocritical beauty editor).
And after hearing about our reader's rash, as well as speaking with our experts, I realized (to the utter dismay of my wallet) that I needed to start from scratch and buy all new brushes. There was really no way to save these overused, makeup-caked applicators. (It's amazing the things you don't really see until you actually choose to take a close look at them.)
But brushes are expensive, and while I want quality, I certainly can't fork over $300 for a whole new set (which I will clean daily from now on, I promise!)
Thankfully, I found this great set of eight, high-quality brushes from the Sephora Collection, and I can't recommend it more highly.
Especially if, like me, you're looking to replace your entire makeup-brush arsenal. It contains everything type you'll need: a brush for eyeshadow blending and another for precision shadow application, a smudge brush, an angled eyeliner brush, a brow comb and brush combo, a fan brush, a small, but excellent contouring brush, a fan brush, and a wonderfully thick and full face powder brush. And all of it it comes in a sleek black travel roll to use when you're on the go.
The best thing about it?
The $62 price tag, which would normally be $160 if you bought all of these items separately. The only thing missing from this set, in my humble opinion, is an all-over facial kabuki brush.
So I added this Classic Natural Kabuki Brush, also from the Sephora Collection to my basket, and I can say it was certainly worth the $24.
And if I continue to clean them properly (so far, I've been misting them daily with Celilia Wong's special spray bottle concoction), they all should last me for years to come.
So if you find yourself in the same boat that I was, don't buy each brush you need individually. Save some money and purchase a set like this one.
Tags:
Beauty Brushes
,
Makeup brushes
,
Sephora
,
Sephora Collection