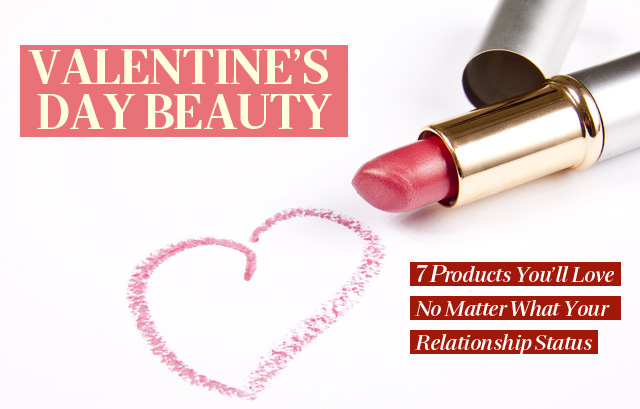 Once again, that pretty-in-pink, saccharine sweet holiday called Valentine's Day is just around the corner.
Depending on your current relationship status, you're probably either pup-lovingly looking forward to it, dreading it to death, or—quite simply—couldn't care less.
Whatever your February 14th temperament, we think you'll like the following beauty goods. True, some of them are love-themed, but is that really so bad?
Rarely do we take the time to say "I love you" to ourselves, and lately, I'm learning just how important a practice that is.
So in the spirit of self-love, I offer the following pretty products. Surely one of them will weasel their way into your own unique and  beautiful heart.

Philosophy X's and O's Trio
Philosophy always delivers when it comes to cute, holiday-themed goods, and this three-piece set is no exception. Vanilla lovers take note: the kit includes the brand's Vanilla Cream Topping multi-purpose shower gel and body lotion.


Diptyque Rose Duet Candle
How could you not indulge in this pretty, limited-edition candle? I, for one, could not resist, as it's a combo of two of the brand's most iconic aromas — one of which is Baies, my absolute favorite Dityque scent. Happy Valentine's Day to me! 


Fresh Sugar Passion Princess Set
Some of Fresh's best products are packed in this pretty collection. You get a Sugar Lip Scrub and Tinted Lip Treatment (in the Passion shade, 'natch), as well as Fresh's Soy Face Cleanser, which is a gentle gel that's great for sensitive skin.


Bite Beauty Cinnamon Plumping Lip Oil
Give your pout a spicy shot of cinnamon with this stimulating lip plumping gloss. You'll feel a sweet warming sensation when you swipe it on, as well as the smoothing nourishment of four all-natural hydrating oils.


Sephora Look of Love Ultimate Travel Brush Set
Brush up on your makeup tool must-haves with this bright-red case containing eight essential brushes. And the price just can't be beat—the set, which is valued at $210, is on sale for just $75.


Butter London's Valentine's Day Lacquer and Lippy Trios
I love Butter London's lacquers and lippys, so I was thrilled to see the brand's special trio Valentine's Day gift sets. My fave? The Sultry Trio, which includes a matching gloss and polish in Come to Bed Red, as well as the intensely dark and glittery Black Knight lacquer.


Jo Malone "Red Roses" Bath Oil
If you're in need of some serious me-time, indulge in a bath tinged with this beautifully scented oil. Crushed violet leaf, a hint of lemon and spearmint scents will surround you, but they won't overwhelm—the aroma is light, leaving skin feeling soft and smelling naturally clean).
Tags:
Valentine's Day