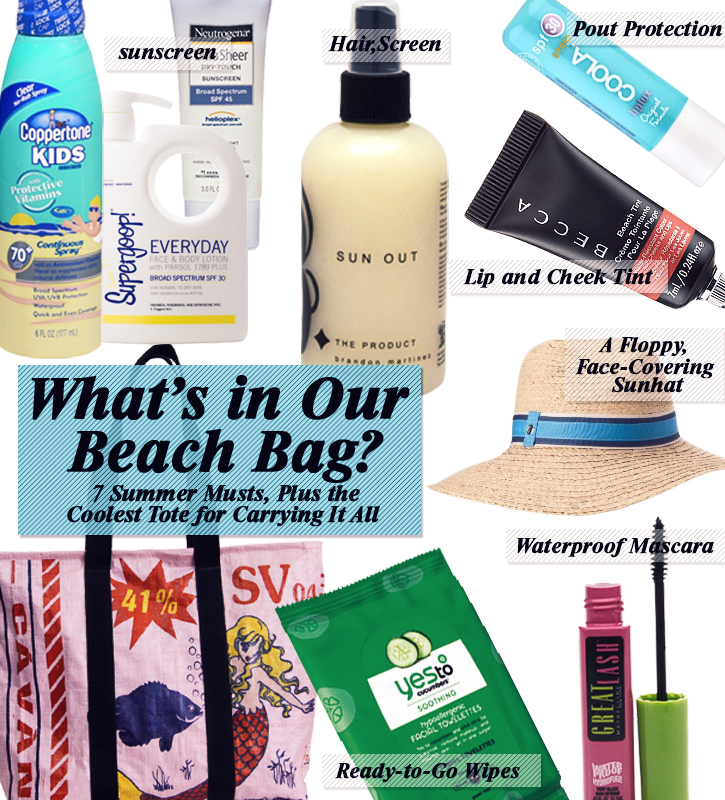 Even if you're lucky enough to live right near the shore, it's always good to pack up a bag of essentials to have on hand once you settle down in the sand. Here are seven of our must-haves, as well as a lovely, limited-edition mermaid-print bag (made in Cambodia with recycled rice material) to bring to the beach in (guilt-free) style.
THE BAG
Nomi Network Mermaid Everyday Tote, $45
What's not to love about this sea-themed, mermaid-adorned tote (as well as the cause behind this brand's eco-conscious offerings)?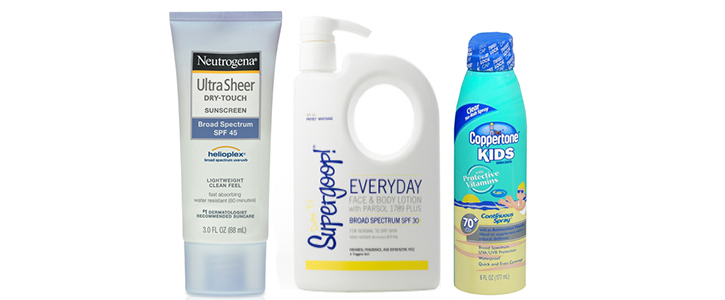 1. Sunscreen
Neutrogena's Ultra Sheer Dry-Touch Sunscreen Broad Spectrum SPF 45, $10
Of course sunscreen always comes first, and this summer I've become a die-hard, daily user of Neutrogena's Dry-Touch formula for my face. It works great under makeup, absorbing almost instantly, and at the beach, I can apply it freely without worrying about leaving any messy white residue behind.
For body, nothing has changed. I guess I'll always be a kid at heart—nothing protects my skin better than Coopertone's Kids Continuous Suncreen Spray, $11.
Summertime Tip: Hopefully, you'll be using a lot of sunblock this summer, especially if you have a bunch of little ones in your beach party. If so, we suggest investing in Supergoop's 30+ Endless Summer Pump, $48, which contains 18 fluid ounces of SPF 30 Face and Body Lotion. Fill some up some empty bottles and head to the beach with your brood.

2. Hair Screen
B. The Product Sun Out Protection Spray, $21
It's not just your skin that needs protection from the sun. UVA and UVB rays can weaken your strands (and burn your scalp) just as badly, especially if you have colored-treated or already damaged hair. A sun shield spray, like this one from B. The Product, is essential for protecting your mane from UV rays, chlorine, salt water, and more.

3. Pout Protection
Coola Liplux SPF 30 Original Formula, $12
Don't forget about your lips! Coola's water-resistant balm protects your pout with an SPF of 30, as well as moisturizes and nourishes with antioxidant-rich ingredients such as avocado and raspberry butters. If you're into scented balms, try the Peppermint Vanilla option, which is refreshing in the heat yet not at all overwhelming.

4. Lip and Cheek Tint
Becca Beach Tint in Grapefruit, $25
You just need a few dabs of Becca's lip tint over your balm for a sweet, subtle flush of pink. Be sure to add a touch to your cheeks as well. Becca's formula is easily blendable, oil-free, and contains soothing vitamin E for even skin tone and texture.

5. A Floppy, Face-Covering Sunhat
Hat Attack Women's Sun Protection Sunhat, $90
Add to the all-important protection of your face, as well as some sweet beach style, with a sun-shielding hat. This one from Hat Attack is hand-woven, made from 100% raffia braid straw, and is such a chic way to safeguard your precious skin.

6. Waterproof Mascara
Maybelline Great Lash Waterproof Mascara, $5
You might as well use the ultimate go-to mascara if you're going to lift your lashes for the beach. Nothing beats Great Lash's Waterproof formula—it stays put and doesn't smudge or smear. Of course, if you go for a serious swim you may need a touch up, but for general beach hanging and light ocean mists, there's nothing better. Plus, for $5, if becomes a casualty of the sand, you really won't care.

7. Ready-to-Go Wipes
Yes to Cucumber On-the-Go Facial Towelettes, $6
Wet wipes are a definite must at the beach, and facial towelettes are the best type to bring. They can be used for cleaning up smeared mascara after a long swim, as well as always-needed de-sanding of face, body, and even cooler snacks.
---

Susan is a freelance writer, born and raised in NYC and currently based in Brooklyn. She's the senior beauty editor for Meets Obsession, and also writes for online publications such as Mamasarollingstone.com, TueNight.com.
and The Huffington Post. Susan had a serious candle hoarding issue that she has no plans to address. She's currently obsessed with Marc Jacobs' new beauty line, her black Zara moto jacket, and Aaron Paul.
All author posts