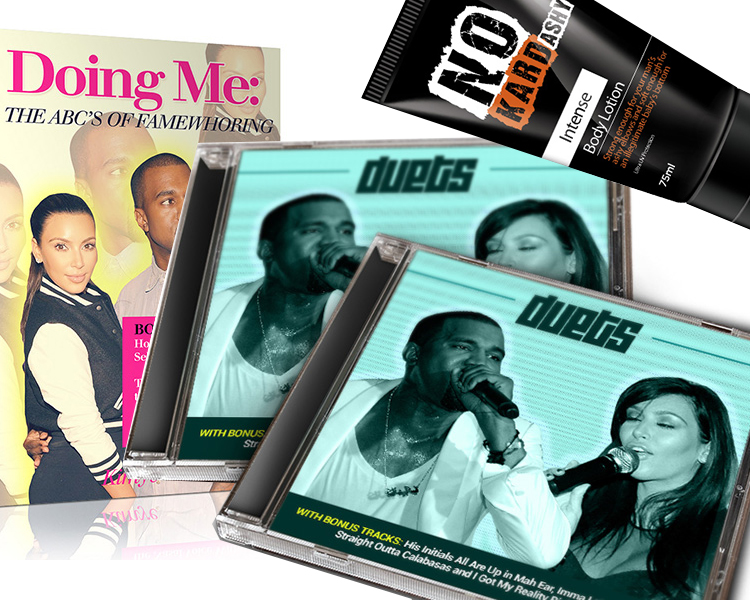 Now that Kim and Kanye have made a baby, we can now officially call them a kouple. And a famous one at that.
With Kim's Shoe Dazzle, Belle Noel jewelry line, Kardashian Kolors OPI nail line, PerfectSkin line and Sears clothing collection, and Kanye's Fatburger restaurants, Air Yeezys and fledging fashion career, there's probably a modest ration for baby Kash's (name prediction) trust fund.
But we at Meets Obsession have pondered, if these two got together for a business venture, what kind of products might we expect?
In their mutual quest for fame and glory, here are a few products that we'd love to see via their future business venture, FameBaby, Inc. formerly Fame to the Limit, LLC.
No KardAshy Lotion

Strong enough for your man's ashy elbows and soft enough for an illegitimate baby's bottom, No KardAshy Lotion is guaranteed to get your skin as greasy as Seacrest's hair. For only $51.99, it's perfect for moisturizing after getting a face full of flour.
Kardashigans 4 Kidz

Kim and Kanye's baller children's couture.  For hip hop families only, with a promise to look better than Suri. Looped into the business deal is newcomer Blue Ivy Carter, who will model the signature Kardashigan coming Summer 2015.
K&K Duets Album


In stores now, Kim's & Kanye's "Duets" album features songs like "His Initials All Are Up in Mah Ear," "Imma Let you finish, Girl," "Straight Outta Calabasas" "Dat's My Baby Mama" and "I Got My Reality Riches, Bitches." White Tiger cub in Louis Vitton handbag included with each album purchase.
Kanye and Kim's Krazy Ye Ye Juice: Go Nuts, Go Apeshit.
 
Pass the Ye Ye juice. 2 parts Jay-Z's vodka, 1 part crème de cacao, 3 parts Hennessey with Acai Berry for accidental weight loss at select locations. Yayo not included. Available for a limited time only infused with 14K gold flecks and embers of $100 bills.
Kim K's Black Koffee

Everybody knows that Kim likes her coffee black. For the girl on the go, order now and receive a free diamond encrusted mug perfect for all Lamborghini cup holders. Coming next spring, Kim K's Kleanse, to get that ass you've always wanted.[hr]
Doing Me: The ABC's of Famewhoring

In this 300-page book, Kim and Kanye take you through the basics of famewhoring.  From quickie marriages, to taking over a stage during a speech and the best ways to alert the paparazzi for your photo opps, this book will take you to the depths of fame in no time.
Other chapters include:
I'm Famous, You're Famous. Why Not?
How to Distribute Your Self-Made Porn Movie
The Benefits of Forgetting to Take Your Birth Control
Vocals: Perfecting the Nasal Voice Within
This is MY Time! How to Suck the Air Out of the Room
How to Announce You're Expecting
How to Tell Your Child He Was On a Reality Show in the Womb
---

Caroline Cullen is currently obsessed with Dirty Shirleys, Pauly D's pecks, and Gordon Ramsay's Kitchen Nightmares on BBC.
All author posts