'Scandal' wardrobe from left to right: Escada dress; Christian Dior satin jacket, pale pink Ferragamo coat, tan Prada purse, light gray Armani pants; Tom Ford jacket; silk Gucci blouse, Escada cardigan, Max Mara pants; vintage Fares gown.

Saks Fifth Avenue is launching a collection inspired by Ms. Olivia Pope, set to be featured in select stores across the country next month.
Pope has, by far, the best wardrobe within the Beltway. With designer duds ranging from Dior, Valentino, Calvin Klein, Tom Ford and Carolina Herrera, her closet is the envy of any female trying to achieve the ultimate power suit.
Ms. Pope commands authority in any room, preferring creams, nudes and grays over blacks and blues, so it is no surprise that Saks is using her wardrobe as inspiration.
However, Pope is not a DC politician, or humanitarian, or even a First Lady, but rather the professional fixer played by actress Kerry Washington on on ABC's hit show 'Scandal.'
Pope is always appropriately dressed for the occasion. Her flawless wardrobe, full of pristine power suits and head-turning dresses, is meticulously planned by the show's costume designer Lyn Paolo, who is inspired by Lauren Hutton, Katherine Hepburn and other women who have mastered the pantsuit.
With Season 3 returning on October 3rd, fans of the show, known as Gladiators, and fellow fashion enthusiasts are anxiously waiting for what Olivia Pope will wear next.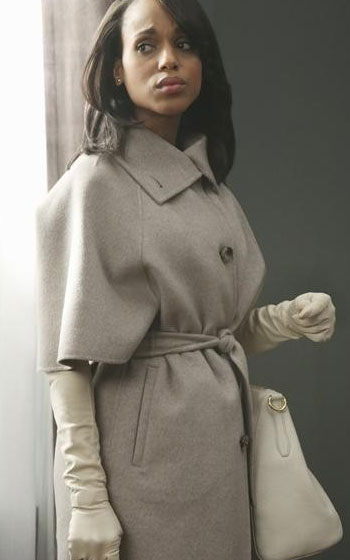 'Scandal,'  a show that started off with a small but vocal following, quickly gained viewership thanks to social media. Gladiators took to the web with force, and with a million Facebook fans and 3 million twitter followers, the show now boasts 10 million weekly viewers. Saks Fifth Avenue is hoping Gladiators will want to emulate Pope's wardrobe with the help of this collaboration.  

The collaboration between Saks and 'Scandal' is not a capsule collection, but rather a collection of designer apparel and accessories curated by Paolo, show runner Shonda Rhimes, and Kerry Washington, who portrays Olivia Pope.
On October 2nd, the Saks Fifth Avenue Flagship store in NYC is hosting a meet-and-greet with Shonda Rhimes and Lyn Paolo to launch the collaboration with the unveiling of Scandal-themed window displays in anticipation of the new season and collection.
This collection might just be the first step for Gladiator fashionistas.
In the future, look for a collaboration with a major brand, such as The Jones Group or Ann Taylor, to launch a Scandal-themed line, following in the footsteps of the popular Banana Republic/Mad Men line.
Gladiators get ready! 'Scandal' returns next Thursday night at 10 p.m., and the Saks Fifth Avenue collection launches in select stores next month.
In the words of Olivia Pope, "It's handled."
---

Lindsey is a writer based in Washington, D.C. She is currently in her third year at The George Washington University studying Business Administration. Lindsey enjoys spending time working at DC's famed Georgetown Cupcake, and in her spare time watches anything that smells like an Oscar nomination. Lindsey is currently obsessed with Skyping with her dog, listening to Avicii on monument runs and making pancakes at midnight.
All author posts