[dropcap]T[/dropcap]he skinny versus curvy debate has plagued pop-culture discussion for years. The slender-Victoria-Beckham-types and the curvy-Christina-Hendrix-sets are often pitted against one another in editorials, television, film and other mediums. In fact, western society sees the two body types as dichotic—it's either one, or the other.
In Hollywood, we've seen every variation of these two characters: from the slim girl next-door and her first world problems, to the overweight woman pitted against the odds. Screenwriters have thrown every formula at us, and at first glance, we see them using these female bodies in a manner that creates stereotypes and generalizations. It's undoubtedly a major habit of mass media.
But what about a body that doesn't meet that canon of either skinny, or rubenesque, as Lauren Bans from NY Mag's "The Cut" so interestingly says. For one, there are implications. When Jennifer Lawrence starred in "The Hunger Games," her "curvy" figure was deemed not right for the role. Fans and critics criticized the casting choice, saying that Lawrence's body type was not true to the book's Katniss.  However, for Michelle Williams, who put on weight to play the iconic and celebrated, full-figured Marilyn Monroe in "My Week With Marilyn," there weren't any complaints because she met the supposed role requirements.
In both instances the film's reception and the actresses' bodies were connected.
Pop culture, as a whole, seems enamored with seeing "life-size" women on screen. Does that mean there is a shortage of roles for the women that fall in between?
HBO's highly acclaimed series "Girls" is written and directed by Lena Dunham, who also stars in the show as the plump—not too toned nor too bodacious—Hannah, who is supposed to be the voice of her generation.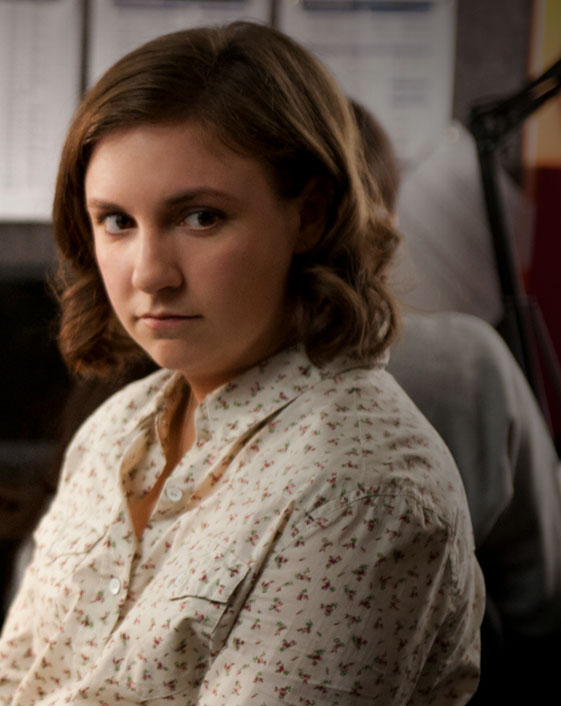 Zooey Deschanel continues to inspire the writers of "New Girl," as they honed in on what the actress is best at, and crafted a sweet, dorky, not-so-girl next-door character. Deschanel has created the new Quirky-Girl archetype.
Mindy Kaling has moved gracefully up the TV hierarchy with her stint as a writer and occasional performer on "The Office." The web presence she established with her blog, "Things I've Bought That I Love" eventually led her to her current "The Mindy Project."
None of these women fit into  Hollywood's mold as a leading lady, and they have had to gain a presence by either writing their own material, or creatively carving a niche in the industry for themselves.
Back in November, Vulture described Kaling's work as something that is wholly her own and from it she stemmed her own comedic brand. And looking at Dunham and Deschanel's careers, they seem to be doing the same.
Is that what it takes to break in the business if you don't fit the Hollywood standard of beauty?
Dr. Melissa Camacho, Associate Professor at San Francisco State University, is an expert on the depiction of women in mass media and she thinks this isn't new and it isn't necessarily a trend.
"These are recreations of personalities that we had ten, twenty and thirty years ago," she told Meets Obsession. "The bottom line is, there is very little original that we see in the media."
It could be that Deschanel's allure is not as different as we thought. When asked about the quirky-girl archetype and other potential character developments, Camacho explains its all a formulaic approach and that, "they borrowed a lot from archetypes from the past—like Clara Bow from the silent era. She was quirky."
Conversations have started about the complex relationship between the female body and mass media. One possible, well-known reason, is that males dominate the writing rooms.
Last month, The Atlantic posted a review of "Girls,"  suggesting what stood out in the HBO show were the sex scenes because they were "democratic" in the sense that it was truly representative of every day people. Not to mention, vital to the storyline—and that's rare. Frequently, sex scenes are there for male enjoyment. These issues come up day-to-day because as we tell stories, women's bodies—which goes back to mythology and ancient times—have always been a site of story telling," says Camacho.
However, too much visibility, or being "over represented" is an issue to some. Lee Aronsohn, co-creator of "Two and a Half Men," seems to feel that way.  The Hollywood Reporter quoted Arosohn as saying, "Enough, ladies. I get it. You have periods."
However, David Bedrick, author of the upcoming book, "Talking Back to Dr. Phil: Alternatives to Mainstream Psychology," is an attorney, counselor, and educator who sees this trend as a door that was nudged open. But that little nudge inspired more actresses to take the leap. Yet, it may be lodged because of the out-spoken male dominance, that affirms itself by insulting the female body.
"There's no doubt, that any individual man could have an objectification, some more than others," Bedrick told Meets Obsession. [pullquote]"And as a group in Hollywood, they form a consciousness, one summary mind that puts it all together and has a viewpoint [towards women] that these women are breaking out of."[/pullquote]
The new females stars have chosen to display their bodies in the manner they deem appropriate, but it's still up to the audience to choose how they see it.
"Visibility [is important] and the way people witness it," explains Bedrick. "Meaning, let's say a girl is watching Lena Dunham on TV, the way the environment around her— her family—receives that might say, 'oh my gosh that's disgusting.' Then that body type will be shown as something to be shameful of."
The female body debate continues, but in the meantime, it's important to remember that stories are meant to be told and should be told by a variety of people.
As Diablo Cody told The Hollywood Reporter, "women have not had their proper say."
And it's not just women, but everyone who falls outside the white-male-cannon. Maybe with a variety of voices, a chord will strike and our culture will be more in tune with real life and its many inhabitants.