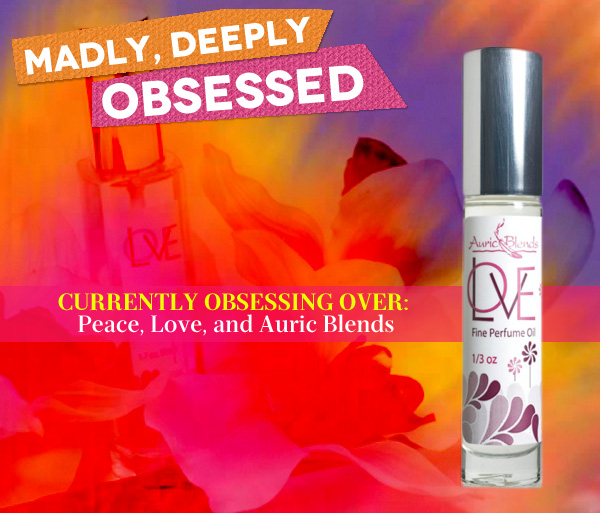 People who meet me now may not believe it, but I was a major hippie back in college. I attended Grateful Dead shows on a way-too-regular basis (Jerry was still alive, man—I witnessed history), I wore used peasant blouses and patched-to-the-max overalls (to the horror of my NYC friends back home), and I had one single dreadlock, the result of a grown out hippie hair wrap, nestled awkwardly in the back of my curly head of hair. And I loved it.
But I was a little different than my peace-and-love cohorts when it came to the particulars of my appearance. I cared much more deeply about the cut and wash of my hand-me down-overalls. Haircare was important too. Each week I made certain that I bought special (and expensive) product for my adored dreadlock. God forbid it wasn't cleaned and conditioned.
Clearly, there was a burgeoning beauty editor inside of me dying to break free.
Which is why I'm currently obsessed with this roll-on fragrance from Auric Blends.
The Love scent is perfect for winter: it's warm, woody, and slightly spicy. And yes, it has an ever-so-subtle hint of patchouli that reminds me of my carefree college days. But it doesn't scream hippie by any means, and the fragrance fits perfectly with the (semi-together and adult-as-I'll-ever-feel) life I have now. That is to say, it's sophisticated.
A woman wearing head-to-toe Rachel Zoe recently complimented me on it in the elevator, so, there you go. I know I'm not deluded.
You can buy Love at Auric Blend's website and at your local Whole Foods store, however in the spirit of my bra-less, Deadhead heyday, I purchased my most recent refill from a website called HippieShop.com. (And while I was at it, nabbed this Cross Body Fringe Bag by Minnetonka.)
I guess I just have to accept that my boho-chic sensibilities will always be a part of me.
And "I don't care," as the late, great Mr. Garica once sang, "cuz, it's alright."