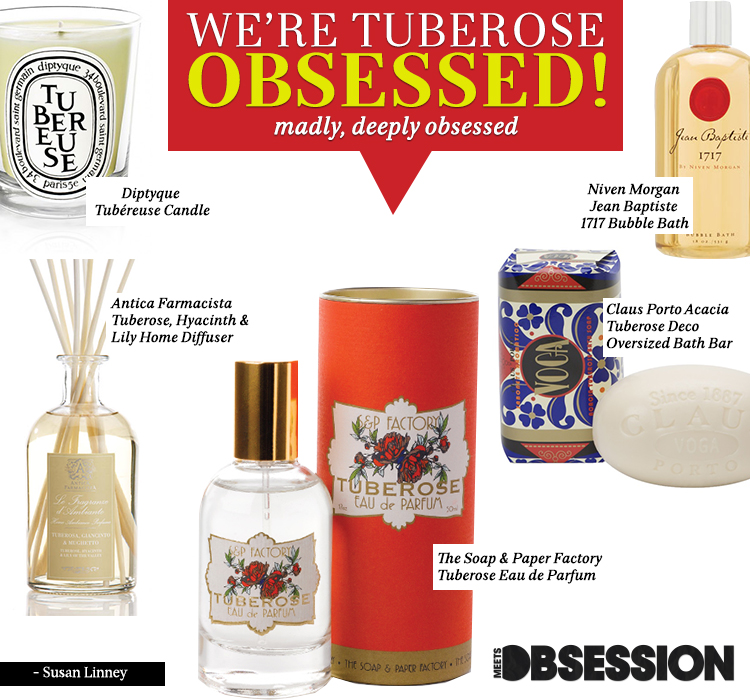 [dropcap]T[/dropcap]uberose is a bit of a tricky fragrance. Some people love it, while others find it very heavy and musky—a scent "way too intense, sickly sweet, and kind of dirty," as my friend put it. Nice sell, I know.
But I like the smell of the white, flowery plant, which despite its name has no relation to the rose flower. (Perhaps one reason why people are so thrown by its pungent aroma.) It is a heady fragrance,  but most products know how to blend the strong scent with other aromas that both complement and tone down its intensity.
As far as perfume goes, I'm still using (and loving) my Auric Blends Love Oil daily. But in my home, I'm currently tuberose-obsessed. Of course it would be over the top to fire up all five of the following goodies at once, but I have sampled them all and each get the MO seal of approval. So if you want to give tuberose a try, I suggest giving one of the following a go.
This is the item that introduced me to the sensual and inviting feeling of a tuberose-scented room. It's lush, floral (but not overly sweet) and soothing in the most intoxicating of ways. I love this candle because while you can smell it the moment you pull it out of the box, it's not overwhelming at all when burned. Try the $28 mini if you're unsure about making the full investment (which I believe is worth it—anything Diptyque is as quality as it comes).
Rarely do I indulge in a bubble bath, but this bottle is so pretty that seeing it on the side of my tub made the purchase totally worth it. And sometimes after I shower, I'll drop in a dollop just before I turn off the water—a technique which leaves my bathroom lightly perfumed with a tuberose/jasmine/vanilla combo that I just love.
Diffusers are great for subtly scenting a room all day, and this one from Antica Farmacista is a must-try. The tuberose fragrance is blended with notes of Hyacinth flower and Lily of the Valley. Of all of the options in this roundup, I find this one to be the lightest in terms of tuberose intensity. Plus, I love the pretty urn-shaped bottle, which comes with a sweet satin ribbon tied around the neck.
This big bath soap is to die for just for the art deco packaging alone. (I'd love to see it make a cameo this summer in Baz Luhrmann's version of Daisy Buchanan's boudoir.) The soap is great because it just lasts and lasts—plus it contains 100% natural Shea butter, is vegetable-based, and not tested on animals.
If you're looking for something smaller, I'd recommend this set of three soaps from Belle Fleur, which beautifully blend their tuberose aroma with gardenia, ylang ylang and vanilla.
Of course, I can't leave out a perfume option, and this one is perfect for both tuberose lovers and those on the fence about the fragrance. (Plus, it works nicely as a room spray—two quick pumps is all you need to scent a small space).
The perfume sinks swiftly into the skin, leaving you with a noticeable—yet subtle—tuberose-jasmine bouquet for the day. And, as with all of S&P's products, the oh-so-pretty packaging makes it a must for your dresser or vanity. (Here it is on mine, next to my daily reminder that I'm beautiful, both inside and out).
---

Susan is a freelance writer, born and raised in NYC and currently based in Brooklyn. She's the senior beauty editor for Meets Obsession, and also writes for online publications such as Mamasarollingstone.com, TueNight.com.
and The Huffington Post. Susan had a serious candle hoarding issue that she has no plans to address. She's currently obsessed with Marc Jacobs' new beauty line, her black Zara moto jacket, and Aaron Paul.
All author posts