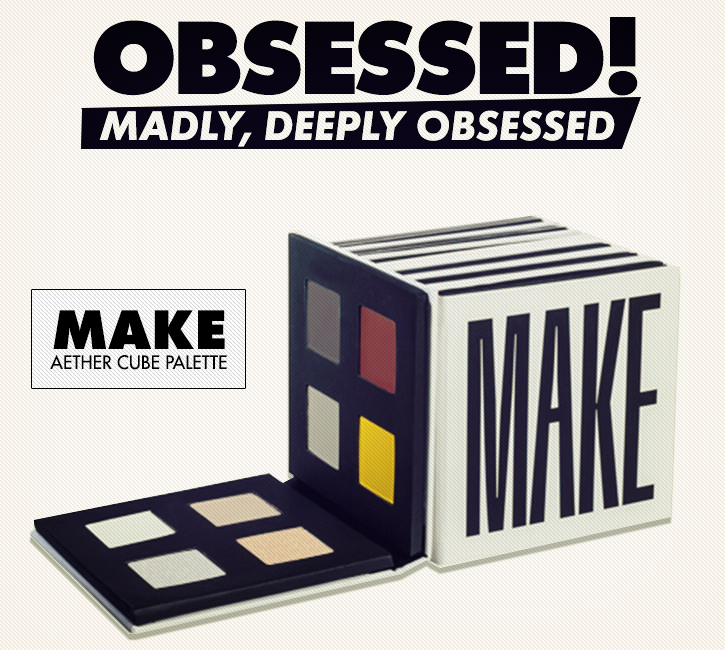 We See Beauty is an amazing and unique non-profit foundation that is "dedicated to incubate and accelerate women-led, worker-owned cooperatives to drive large scale change."
To support its cause, WSB has launched a beautiful line of beauty products called MAKE, which includes this incredible makeup cube that I'm currently obsessed with.
Created by British designer Faye Toogood, this Rubik-esque palette consists of a carefully curated collection of eye colors, as well as a pretty coral shade for lips. Meant to be mixed, the cube contains three velvet matte eyeshadows (in white, yellow, and grey tones), and well as two gleaming, glittery shades (in Quartz and Alabaster).
As with an artist's old-fashioned palette, you can play with these colors to create dimension, texture, and one-of-a-kind finishes, using your lids as your canvas.
In addition, the creamy Deep Flesh lip color complements practically any eyeshadow shade you create. And when you're done, you can close it all up and proudly display the beautiful box on your makeup table.
Plus, 33.3% of all sales are donated to the cooperative-supporting organization. And who doesn't love guilt-free shopping?
For more info on this breakthrough beauty brand and its father foundation, check out Weseebeauty.com or follow @WeSeeBeauty on Twitter ASAP.
It's a really cool movement, man, one which also consists of film, design, and printed goods. Art at its best, being used solely for good.
Tags:
Current Obsessions
,
Faye Toogood
,
MAKE
,
We See Beauty