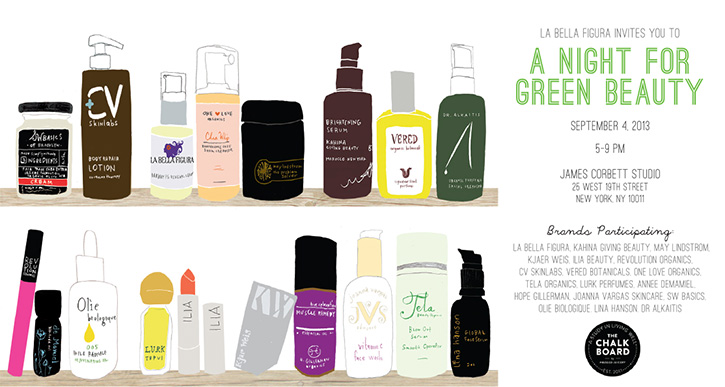 Before the madness of New York Fashion Week begins, editors, bloggers and organic skin care lovers alike will have the chance to put their feet up and sample some all-green goods at A Night for Green Beauty.
The event, which will be held at the James Corbett Studio on September 4th, is the first of it's kind. More than 15 all-natural brands, who are essentially competitors in the organic skin care and cosmetics market, are coming together to make this party possible.
"A Night for Green Beauty is so special to us and the idea was pretty simple: To highlight the desire that all organic brands have to create beautiful products that are thoughtfully made for the consumer, and with consideration to the planet," says Victoria Fantauzzi, co-founder of La Bella Figura, which is one of the participating brands—and host of the fete.
The event is truly community-based, which is what I find most impressive. All of these brands are putting their marketing, content and sales strategies aside to make this event happen. "The fact that many of the participants were just as excited as we were to come together was a happy surprise to us," Fantauzzi adds. "There is true desire. To provide a simple message—you can have effective beauty products without toxic ingredients—while showcasing such gorgeous brands."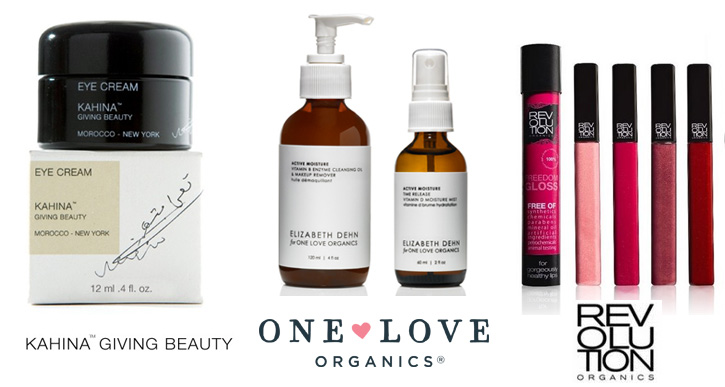 In other words, on this Night for Green Beauty, there is room for everyone.
And what a night it will be! While pursuing products, guests will be able to get their hair done at the Green Beauty Braid Bar, get gorgeous at an Organic Makeup Oasis, as well as sip organic wine and sample fresh pressed juices from Pressed Juicery.
In addition, celebrity makeup artist Katey Denno will be on hand to offer advice, as well as Joanna Vargas, a high-profile facialist whose clients have included Michelle Williams, Rachel Weisz, and Sofia Coppola. She'll also be showcasing her own line, Joanna Vargas Skin Care.
As a high-end organic beauty buff, the list of participants makes me squee with glee. Brands include Kahina Giving Beauty, One Love Organics, Olie Biologique, SW Basics (formerly known as Sprout), de Mamiel, Revolution Organics, and many, many more.
It looks to be a wonderful night of beauty, fun, and sharing this very important message: You can get everything you need, minus the toxic and unfriendly-to-the-earth ingredients, in these lovely and luxe organic beauty products.
Plus, each brand will be donating a portion of their proceeds from the evening to Hair 2 Help, a nonprofit, New York City spa that provides beauty services to cancer patients. All of which are green, of course.
---

Susan is a freelance writer, born and raised in NYC and currently based in Brooklyn. She's the senior beauty editor for Meets Obsession, and also writes for online publications such as Mamasarollingstone.com, TueNight.com.
and The Huffington Post. Susan had a serious candle hoarding issue that she has no plans to address. She's currently obsessed with Marc Jacobs' new beauty line, her black Zara moto jacket, and Aaron Paul.
All author posts