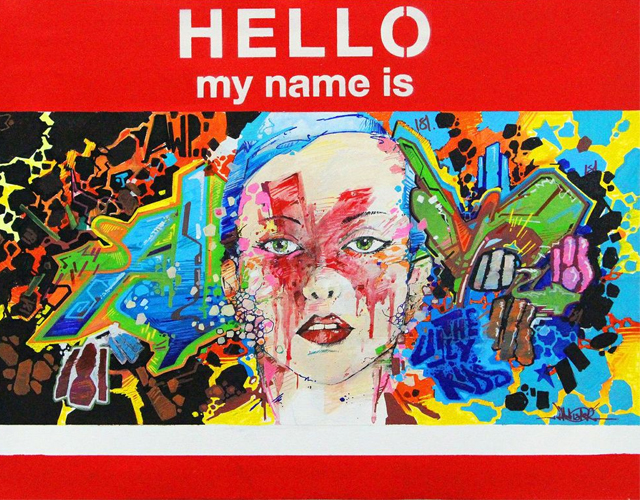 While DC has seen a lot of hype for the Corcoran's retrospective Pump Me Up: DC Subculture of the 80s, The Fridge is set to show people a snapshot of what the graffiti world is bringing at this very moment.
Curators CHE and ULTRA, both members of the history-making DC-based KGB crew, have compiled a list of 80 artists who have all received a canvas silk-screened with a "HELLO my name is" sticker.
The artists have each been charged with creating a new, original piece of artwork riffing on their nickname. The show's concept is a play on the beginnings of the graffiti art movement – the importance of the name. At the start, artists used their nicknames to make a mark across NYC, predominantly working on the inside and outside of subway cars to travel their names across the city. Competition drove the development of bigger, more intricate and more prolific tagging, use of color and illustration, diversified media, and the reach into cities like Philadelphia, DC, and Chicago.
Today, graffiti and street art are a ubiquitous part of urban and suburban areas alike. To go along with the exhibit, the curators are creating a book with all of the artworks that will be on view, the launch is set for March 23, 1 – 3pm. The gallery will also have a film screening on March 10, 1 – 3pm.
[divider]
HELLO my name is will be on view through March 31, 2013. For more information on the exhibit, visit The Fridge website. The Fridge is located at 516 ½ 8th Street SE (google map).
---

Pleatherette is a DC-based fashion and style-focused consulting firm. We partner with creative entrepreneurs to pursue unique projects that twist traditional and established concepts about the role of fashion in our everyday lives.
All author posts