From Victrolas to records, 8-tracks to cassettes, CDs to iPods and cell phones, the art of listening to music has evolved over the decades . Today's MP3s make music transportable, compact, and readily available anytime, anywhere. But if every action has an equal and opposite reaction, it's arguable that MP3s have made the art of listening to a full album nearly extinct.
The decreasing care to listen to an artist in their entirety, as well as the online availability of music, has led to the closure of hundreds of record stores. Even the international company, Tower Records closed its retail stores' doors in 2006 after 46 years of business.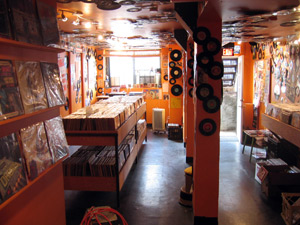 The last decade has not been kind to music stores — those that have survived do so by supporting a niche market. Take, for example, DC's Som Records,  a business that makes a personal effort to always have well-stocked go-go and international sections, and they always have some Duke Ellington on hand, as they are catering to many DC music fans and DJs.
In 2007, amid closures and going-out-of-business sales, a group of record store owners and employees concocted the idea of Record Store Day, a one-day event intended to celebrate and spread the word about "the unique culture surrounding over 700 independently owned record stores in the US," states the official website.
The event is the only day of the year that "independently owned record stores come together with artists to celebrate the art of music." Special releases, merchandise, and in-store performances can only be found on this day each year.
The worldwide event launched on April 19, 2008 with a performance by Metallica at San Francisco's Rasputin Music. It is now annually celebrated on the third Saturday of April.
This year's Record Store Day will be held on Saturday. For the past several weeks, DC's surviving record stores have been prepping, unpacking, and setting up their shops for a massive takeover of music lovers and collectors.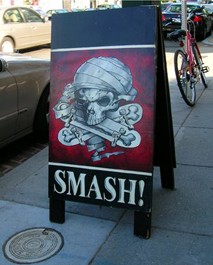 Open for 29 years, Smash Records is DC's oldest remaining music store and will be selling certain Record Store Day releases. They will be opening an hour earlier, at 10am. The shop also uses the annual event to celebrate their anniversary, and hence throws a concurrent party (which will start off a bit later in the afternoon on Saturday).
While Smash has been around the District since 1984, it did have a slight brush with extinction in 2006 when the then-owner, Bobby Polsky, decided to close the original Georgetown location.
"Daisy Lacy, and myself asked Bobby if we could continue the store. He said yes," current owner Matt Moffatt told Meets Obsession. "Daisy and I relocated the store to 18th street in Adams Morgan in 2007 and we've been here ever since."
And they are doing all right. "It's fair to say anyone that runs an independent music shop in the 21st century is doing it because he/she loves music," says Moffatt. "We still exist and pay our rent. That's all we can ask for."
Moffat also noted that while records aren't entirely making up for the lack of CD sales, records are selling more "units" each year as CD sales have nose-dived.
[pullquote]"Record collecting is a niche market, and fortunately for us, that niche appears to be growing and expanding," says Moffatt. "One reason Smash has been able to survive is because the shop has always catered to a niche audience. We focus on what we know best: punk rock and rock n roll."[/pullquote]
But that doesn't mean Smash's clientele are solely punk kids. "There is no typecast customer that I can describe to you," exclaims Moffatt. "Record shoppers are as varied as the records themselves."
Smash also sells other products such as clothing, shoes, books, and is one of the only stores in DC where the hair dye Special Effects can be found. Though Moffatt won't go as far to say that records are better, he does admit, "If anything, people that buy physical music – vinyl in particular – are more serious music listeners. Listening to records demands that the listener 'work'. Putting a 7″ on a turntable to listen to a single song may be more gratifying to a listener then putting an iPod on shuffle and listening to 1 of 10,000 files."
Som Records located on the 14th Street Corridor opened in 2006 after collector Neal Becton decided to quit his job at the Washington Post and follow his dream of opening a record store.
"I worry about closing every day," Becton jokingly told Meets Obsession. "But if I can keep finding records, we're ok." And while he doesn't want to share all his secrets, he admits to finding pieces for his personal collection as well as the store at random places including thrift stores and estate sales. "Records are sort of a luxury item, but you can come in here with $10 and can leave with something—we have all kinds of stuff from really cheap to really expensive."
Becton says his shoppers' range from collectors, DJs, older folks, "younger folks- lots of people are getting turntables these days" and also the local neighbors. "I have some guys I see every week, some every day even, or once a month. Some of my customers come and go. But owning this place is great."
Like Moffatt, Becton is an avid music lover. In fact, he's been DJing for over 20 years and though his store will be participating in the Record Store Day festivities, he'll personally be DJing a gig in Baltimore that day. Som will be open normal hours (12-9) and will have over half the special releases offered, not to mention the store will also be hosting several giveaways throughout the day.
Crooked Beat Records, another Adams Morgan staple, will also be joining in the festivities. Though the owner was busy setting up for the day, he took a few minutes to promise Meets Obsession that they'd have roughly 390—that's 90 percent— of the special releases available on Saturday.
"Right now I'm just trying to figure out where we put everything," Bill told Meets Obsession. The store will also host several live performances by DC bands. Additionally, they'll be handing out free Grab Bags filled with "new promo & used CDs, stickers, buttons, vintage 7″s, magnets, posters, keychains, and other goodies" to the first 100 paying costumers. No two bags are identical and ten lucky winners will also receive $10 gift certificates to the store.
Lastly, 18th Street's Red Onion, who declined an interview with Meets Obsession, is also rumored to be preparing a few tricks and treats for the day.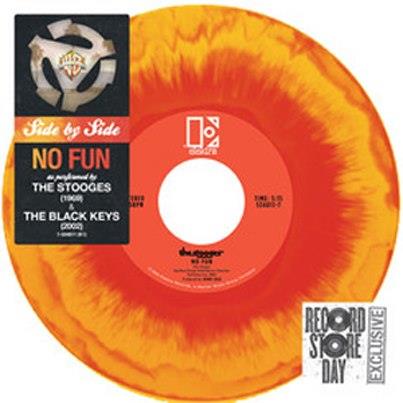 Tomorrow is sure to be filled with great music, great deals, and great surprises. And while every record store in the District is as unique as the people who own and operate it, Moffatt is the first to note "the surviving music shops in DC are all friends. We know that we are in this together."
To learn more about Record Store Day visit the website, or just head out early tomorrow morning to get your fix of special releases from artists such as Iron & Wine (a limited-edition 7″ with two exclusive new tracks and only 3,300 copies will be pressed); Deftones are releasing the first volume of their new Live vinyl series containing songs from the band's debut album, Adrenaline from 1996; Built to Spill is reissuing their 2000 Live album as a limited-edition two-disc vinyl LP and deluxe edition CD, with only 2,500 copies. And the The Black Keys & Iggy and the Stooges even teamed up for the "No Fun" split 7″, featuring The Stooges' famed track on one side and The Black Keys' 2002 cover on the flip side. Only 7,000 copies have been made.
And that's just the tip of the releases.
[hr]
Correction: the original article misstated that 2013 was the year of the 5th Annual Record Store Day. The 2013 Record Store Day is the 6th Annual one-day event.