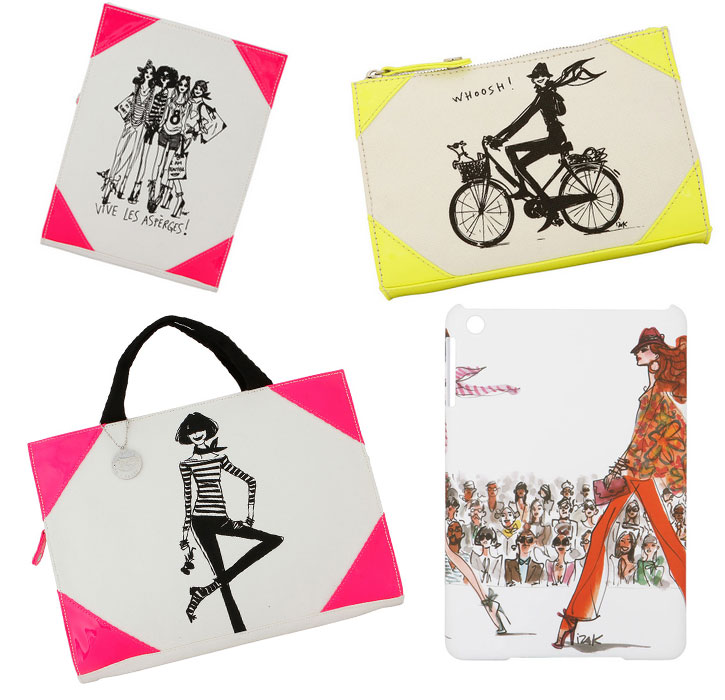 For many years, Izak Zenou's fashion-focused illustrations have been featured on Henri Bendel's shopping bags, catalogues and holiday chocolate bars.  His often-quirky drawings have mostly featured "it" girls doing various activities, like shopping, applying lipstick, walking a tiny dog of some sort, or just being plain fabulous. Whether that is the life you aspire to have or not, his images make you want to be that girl.
Now the illustrator is trying his hand at his own accessories line,which is currently being sold on his website Shop Izak.
With a "smile" brand motto,  you can find illustrations of all things that make us happy–such as clothes, shoes, makeup, hanging out with our favorite girlfriends–in his collection, which includes quirky totes, cosmetic bags, iPhone covers, and iPad cases.
Zenou was reluctant to enter the realm of accessories but made the final moved based on the smile of a woman, going back to his motto.  He explained to Elle.com, " As long as I put a smile on the face of the girl, the woman, about to purchase one of my creations, I succeed!"
Izak's collection is sure to do just that. If it makes you smile, there is a good chance it will make you spend. And that, my friends, is good news for Mr. Zenou.
Tags:
Henri Bendel's
,
Izak Zenou