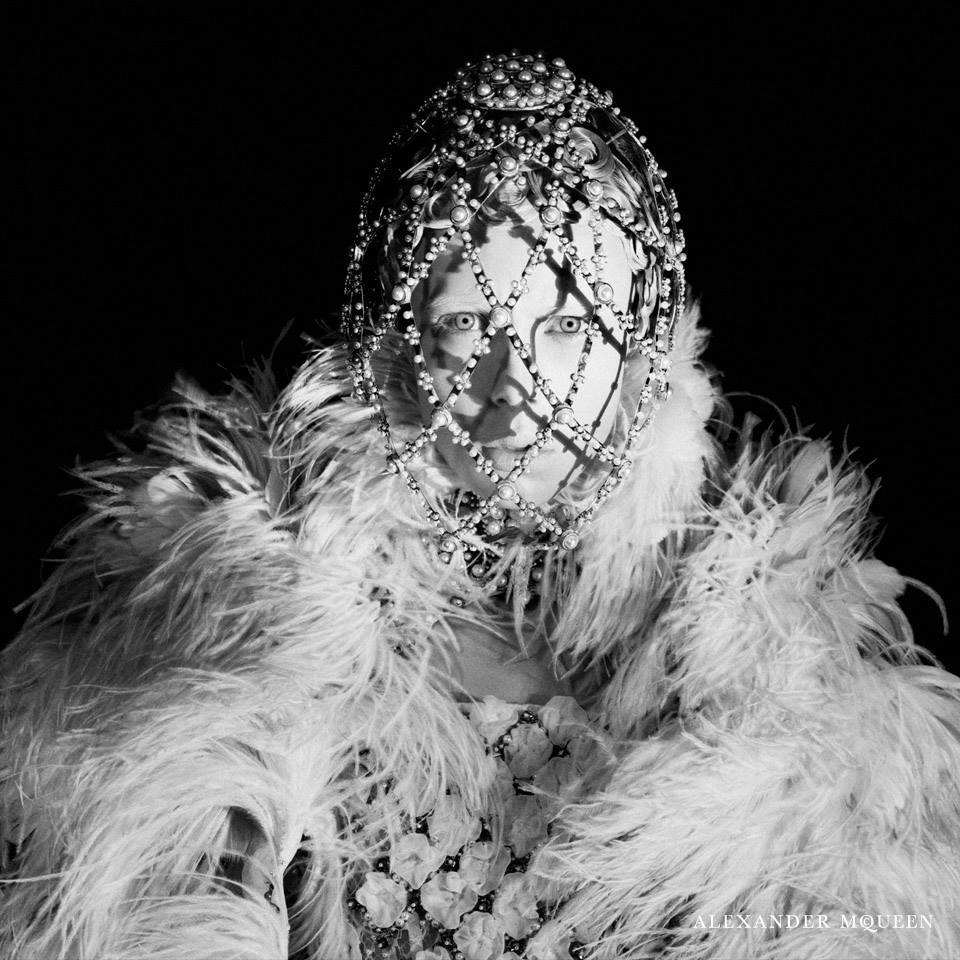 Being an accomplished equestrienne, model Edie Campbell is used to wearing something on her head. This fall, she is swapping her velvet helmet for something much different.
Campbell is the star of the Fall 2013 campaign for Alexander McQueen. In the dramatic campaign photos, Edie can be found looking ethereal while wearing several of Sarah Burton's head cages made of metal and pearls. The shots are colorless, with even Campbell's eyes taking on a milky white gaze.
Aside from the McQueen campaign, Campbell has also landed Lanvin, Marc Jacobs, and Jil Sander, which is not too shabby for someone in her early 20s.
When asked about the cage headpiece, Edie remarked, "I don't think it's at all about the idea of caging or entrapment — it's much more to do with glorifying and bejeweling somebody," she said in an interview with Harper's Bazaar UK.
There's nothing misogynistic about it. It's the highest form of pageantry — they're practically works of art."
The cage headpieces should not come as a surprise to fans of Alexander McQueen, as the fashion house has had a long love affair with bondage and is  known for its avant-garde look and feel.
The new fall campaign certainly solidifies that Sarah Burton is not just producing clothing, but rather works of art that require a skilled hand to assemble.
With large shoes to fill, Sarah Burton has carried the torch along rather brilliantly, representing all that Alexander himself was and could have been.
We can't wait to see what she comes up with next! Bring on the headpieces!
---

Bridget is a writer, stylist, and vintage clothing dealer based in Kennett Square, Pennsylvania. Bridget enjoys spending time with her boyfriend and guinea pig, and in her spare time sells vintage at local flea markets . Bridget is currently obsessed with Zooey Deschanel's wardrobe on New Girl, Moroccan food, and microcars.
All author posts