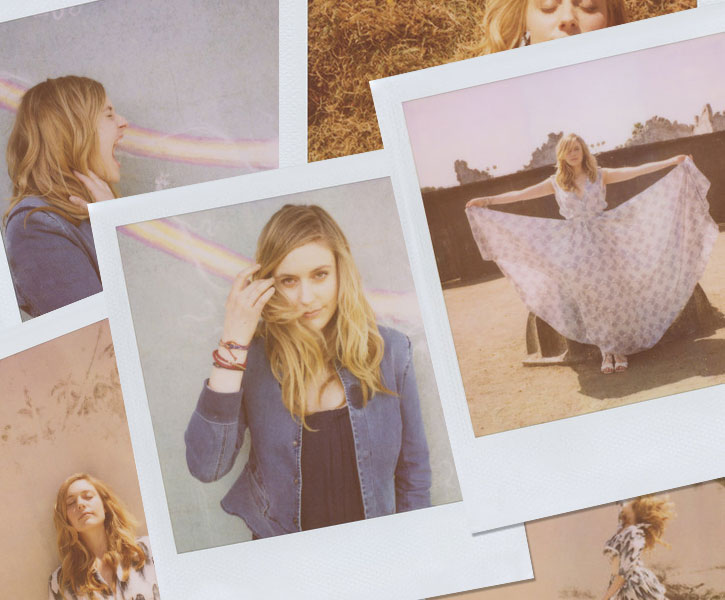 The new darling of indie films, Greta Gerwig, has landed a new role as the face for the new spring campaign of the ever-ubiquitous brand Band of Outsiders. Creative director and photog, Scott Sternberg, with his handy Polaroid in hand, shot a sweet, tongue-in-cheek campaign that features Gerwig in the brand's newest garb at the Hollywood Sports Paintball Park in Bellflower, CA.
In the retro images, Gerwig dons pieces from the collection that captures the brand's usual whimsical take on prep wear, such as a denim jacket, blazers,  sweet summer sundresses, and of course, the trademark flowy pieces, such as a printed capri length jumpsuit, a printed empire waist dress and a Romanesque, draped dress.
In the Band of Outsiders' behind the scenes video, Gerwig seems enchanted by Sternberg's ability to frame shots that create a fantasy, child-like world. But behind the surrealism, she sees honesty in the Polaroid shots, as she says, "I love the finality of the image. It's not going to be manipulated later, so what you see is what you get." And that is exactly what the brand manages to achieve again and again with its low-key but still glam images that challenge what is usually expected from any fashion house. Fittingly, Gerwig herself seems to channel that idea in the indie films she stars in.
The rest of the campaign shots, and an interesting list of Gerwig's all-time favorite films, can be found the Band of Outsider's Tumblr page.